MUST READ
•
Jess Kilts
Meet your new strength trainer: Jess Kilts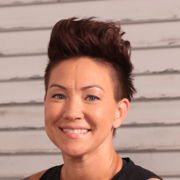 There's nothing more satisfying than strength training. You lift weights, you get results. Well, you do if you're doing it right!
That's where Jess Kilts comes in.
LA-based Jess arrives at Centr with a whole lot of skills: EMT. Massage therapist. Athletic director. Powerlifter. Great hair. We're legitimately convinced there's nothing she can't do. But give her a willing student (that's you!) and our new strength and conditioning expert really shines.
There's a reason Jess is considered a trainer's trainer. She won't just get you strong, she'll give you the tools to discover your own strength. We made her do some heavy lifting with these hard-hitting questions.
Pull up your bench, it's question time.
You're bringing pure strength workouts to Centr. So what are your favorite lifts?
Gotta be the barbell bench press, the kettlebell snatch and the barbell clean.
If they're your favorite lifts to perform, what's your favorite to teach?
The deadlift! Everyone thinks it will hurt their back. In reality, it's the things you're doing – or not doing – in your everyday life that are more likely to trigger pain.
A properly taught and properly executed deadlift is not only incredibly empowering but also the strongest lift we're capable of as human beings.
Okay, we're standing in front of the barbell, preparing for a deadlift. What do we need to know?
There are a lot of body cues that go into good deadlift form. I'll run you through a few of the most important:
vertical shins

butt below your shoulders

shoulders down as if you're tucking them into your back pockets

drive your feet down

stand tall, stand tight
Don't worry, I'll coach you through it in our workouts, too!
Your muscle-building crew just got stronger.
All this deadlifting is making us hungry. What's your go-to post-workout snack?
Vanilla Greek yogurt with fresh peaches or pineapple. Yummmmm!
A lot of people think strength training is only about making muscles. What else is it good for?
Strength training is actually one of the best things you can do for your long-term health. I'll give you three examples.
It helps our bodies age well. Sure, it's great for aesthetics, but you need to keep your bones, joints, tendons and nervous system healthy, too!

Strength training can do wonders for your confidence. When your self-worth is high, you can face the world head on. Even just from a postural perspective, strength training will bring your shoulders back and bring your chest up a little prouder. And that is what people notice.

It keeps you mentally fit. Strength training is great for your brain.
You're bringing functional trainer-based workouts to Centr. What do you like about them?
Functional trainers are awesome – I've trained on them for years. I love barbells, but they don't do it all. On a functional trainer, you can hit bigger muscle groups and do isolation work. You can also really hone in on technique and work on any weak points you have.
What's the one piece of fitness equipment everyone should have at home?
There are few pieces of equipment as effective and all-encompassing as kettlebells. These big hunks of iron have been around for centuries in the same basic form. They're great for strength and conditioning all in one. I'm looking forward to bringing kettlebell workouts to Centr in the future, so keep an eye out.
What's your go-to pump song?
Honestly, I can't just have ONE! It depends on the type of session I'm doing, but a constant is Go by The Chemical Brothers.
Whose team are you on for Centr's Ultimate Frisbee tournament?
What do you think is the biggest barrier people face in reaching their fitness goals?
Our lives are so busy and making it to the gym or even working out at home can feel like a big undertaking. But the more consistent you can be with working out, the more of a lifestyle it becomes – rather than something you feel like you have to do. So if you can push through that, it makes a big difference.
What challenges have you faced as a trainer?
I've always been pretty confident in my people skills and I am a very social person. That said, I didn't have a lot of confidence coming into this field in regards to programming. I knew I wasn't the type of trainer that just wanted to throw things together, I wanted things to make sense for people (and me) and provide lots of room for growth and progress.
So over the years I've studied hard and dedicated myself to constant education and growth to ensure I am as knowledgeable as possible.
To give us a sense of what kind of trainer you'll be, can you share one of your favorite memories with someone you've coached?
I always remember an 18-year-old client who, due to her body type, was never told that she could be an athlete growing up. But with guidance and training, she developed a sense of worth and went on to break every record for her weight class and age in powerlifting. She literally changed the trajectory of her life.
I'm really looking forward to having that level of impact and empowering Centr members.
Finally, and perhaps most importantly… Great hair, how do you keep it looking so fresh during workouts?
Lots of hairspray, my friends!
Jess Kilts
STRENGTH
Elite powerlifter and renowned trainer's trainer Jess Kilts will show the way to your strongest life with pure strength training workouts. Formerly an EMT, Coach Kilts works with athletes as a NASM Certified Personal Trainer and Corrective Exercise Specialist, Strongfirst Kettlebell Instructor and massage therapist. She serves as Athletic Director at Pharos Athletic Club in LA.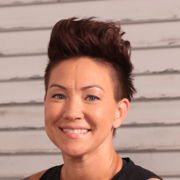 Sign up to unlock your full potential
All your tools in one place
Expert-training to fuel your fitness, nutrition and mindfulness.
Limitless ways to fuel your mind & body
Access to over 3,000 workouts, recipes, and meditations – all tailored to your goals.
Tech that keeps you moving
Download Centr on all your devices to level up and track your results live.