Da Rulk
Meet the master behind Centr Masterclass: Da Rulk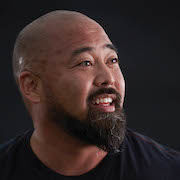 While some trainers help actors become superheroes on screen, Joseph Sakoda – aka Da Rulk – helps real-life superheroes like first responders and members of the military perform at their best in critical jobs.
Now he's on a mission to help YOU learn the fundamentals of his unique style of functional training to unlock your strength and mobility in our first ever masterclass – Centr Masterclass: Da Rulk.
With a background in kinesiology and biomechanics, Da Rulk devised a functional training program, Raw Functional Training, that would provide an intense workout without the need for specific equipment – or even a gym.
---
"
In Hawaii, there's a saying: 'If can, can. If no can, still can.' So always can. It's... a double positive rather than never quit.
"
---
"I wanted to create a curriculum that didn't utilize load, it didn't require you to be in a certain location. You could be at the beach, at the park, in your backyard, in your living room, wherever you are to train," says the Hawaiian trainer. "It's strength and conditioning that can be utilized for whatever specificity you're working in: If you're a first responder, if you're a professional athlete, or if you're a stay at home parent that's trying to be more healthy and mobile to play with their kids."
Chris Hemsworth swears by Da Rulk's functional movements to maintain mobility, even when he's bulking. And Rulk's work with first responders has demonstrated just how many real-world benefits functional training can have.
"My dad was a police officer, so it has a special place in my heart when I train them," he says. Rulk explains that training first responders is a matter of adapting functional training to suit their work, but that same 'adaptability' is what makes functional training perfect for pretty much everyone, emergency personnel or not.
"That same adaptability can be applied to someone who's just starting out, who's never worked out before," he says. "Or someone who used to be an ex-athlete and now has injuries, and now we have to modify accordingly. The ability to adapt is very, very important."
In Centr Masterclass: Da Rulk, the trainer will unravel the key elements of functional training to help you nail his toughest movements, strengthen your mind-body connection, and perform at maximum efficiency.
While you may have tried functional training in the gym – lunges, say, or planks – Rulk's take on functional training will have you crawling around on all fours like a bear. Or even a baby. "I tend to crawl quite a bit," he laughs. "Crawling is something I absolutely love. It's a fundamental movement pattern. Babies crawl to get strong enough to sit up, sit up to stand, stand to walk."
So whether you're saving people or stacking bookshelves, in his 13-session Masterclass, Da Rulk will have you rethinking everything you thought you knew about strength and fitness. And when you're struggling to get your head, hands and legs around his iconic sit thru exercise, just remember Da Rulk's motto: always can.
"'Always can' is a model that I've always followed," he says. "In Hawaii there's a saying, which is, 'If can, can. If no can, still can.' So always can. It's for me a double positive rather than never quit. You always can do it. "
Regardless of your limitations or what's restricting you or holding you back, if you apply yourself, you can always overcome."
Are you ready to transform the way you move? Centr Masterclass: Da Rulk launches October 19.
Da Rulk
FUNCTIONAL TRAINING • MASTERCLASS
Functional training expert Da Rulk trains superheroes: Navy SEALs, fire fighters, law enforcement… and Chris Hemsworth. A certified strength and conditioning specialist with a Bachelor of Science in Kinesiology, he is the creator of Raw Functional Training (RFT), a revolutionary approach to movement. He's the trainer you'll love to hate, who will transform the way you move.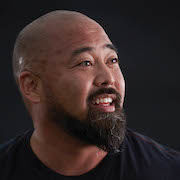 Start your Centr journey with a 7-day free trial
Get Chris Hemsworth's team of the world's best trainers, chefs and well-being experts in your corner.