FOOD BONUS
•
Dan Churchill
How to build the perfect salad (without a recipe)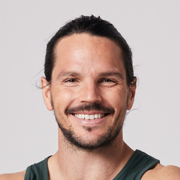 You slay burpees, sit thrus and planks, but when it comes to the kitchen, you're not much of a cooker… cookist… cookologist? Whatever it is, let's just say that you're a little bit lost if you don't have a recipe to follow.
But remember how you didn't know how to make a calendar or a resume until you figured out your computer has templates for that? There are templates for cooking, too – basic rules you can follow to make classic meals like soups, stir-fries, pizza, and salad.
Salad may just be the ultimate 'throw in whatever you can find' dish. Not only is it super versatile (is it lunch, a side, your dinner?), salad is so easy to customize to your unique taste.
So if you know the general direction your kitchen is in, head there now and let's do this!
Here's how you make the perfect salad
Where to start? You'd be surprised how many ingredients are just sitting in your fridge and pantry just waiting to be 'lightly dressed', tossed into a salad, and made into a meal.
The key elements of a basic salad are some kind of leaf (usually green), vegetables, a dressing, extras for texture and flavor, and if you want to make it a meal, some protein. I'll break those elements down for you here so you can begin building your salad.
1. Leaf
This is the base of your salad – the element you'll be mixing everything else into. Leafy greens are packed full of nutrients – obviously, it depends on which one you choose, but you're probably looking at a great source of vitamins A, C, K as well as fiber and potassium. Pick a green, any green – the list of the nutritional benefits for each is long.
Be mindful of flavor combos – the best way to find out if your leaf's flavor matches that of the rest of your salad is to taste it!
This is your perfect salad cheat sheet – pick one (or more) more from each row and watch your salad come to life.
2. Vegetables
The vegetables you choose can spin your salad in different directions – crunchy, warm, sweeter, more savory… If you're not sure, just start with your favorite flavors and textures. Just remember my golden rule: the more colors in your bowl, the wider the range of nutrients you're getting.
3. Dressing
A good dressing can turn even the most ordinary ingredients into an amazing, tasty salad. However, store-bought bottled dressings can also add a whole lot of saturated fat, calories, sodium, and sugar to your otherwise healthy bowl. So why not make your own? Trust me – it's easy! All you need is three basic ingredients: an oil, an acid, and seasoning.
Start with a 1:1 ratio (the same amount) of your chosen oil and acid. Add seasoning, then balance the flavor – adding salt and pepper, extra oil or acid to suit your taste.
A salad is only as good as its dressing, and making your own is as simple as 1, 2, 3!
4. Now for some extras
With your first three key elements in the bowl, you are now officially a master of salad. Congratulations! Pretty simple, right?
But wait, you're not done yet. Now is the time to take things to the next level – let your creativity shine! To add flavor, texture, and even more nutrition, consider adding a few extras. Anything that adds a bit of crunch like nuts, seeds, is a safe bet. Or you can make it a summer salad with berries and fruit, bulk it up with some grains, add some dollops or sprinkles with tahini, mustard, capers or even a hit of fresh chili – get creative with it!
5. Make it a meal
"This is great," I hear you say, "but I just went 12 sets with Torre Washington on leg day – this won't fill me up!" To transform your salad into a seriously filling meal, all you need to do is add your favorite protein. I love chicken in a salad, but you can't go wrong with things like sliced steak, tinned tuna, fried tofu – just make sure you cook or grill any ingredients that need it and allow them to cool. Unless you're making a warm salad – in which case, coming in hot!
The final step
Once you have your ingredients – a leaf + veggies + dressing + any extras and protein – all you need to do is throw them all into a bowl and toss that salad! A spoon in one hand and a fork in the other will do the trick.
Remember, your salad can be as simple or as jam-packed and over-the-top as you like. It may take a bit of trial and error to find your favorite flavor combos, but don't be afraid to experiment and have some fun with it.
Dan Churchill
RECIPES • WORKOUT CHALLENGES
Australian foodie Dan Churchill is taking his fresh, healthy and colorful approach to food to the world as chef and co-founder of New York eatery Charley St. Dan has a Masters in Exercise Science, and was a strength and conditioning coach before switching focus to nutrition. He makes healthy eating easy, and workout challenges sweaty – always with an emphasis on fun.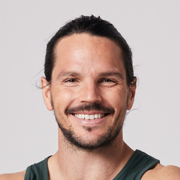 Sign up to unlock your full potential
All your tools in one place
Expert-training to fuel your fitness, nutrition and mindfulness.
Limitless ways to fuel your mind & body
Access to over 3,000 workouts, recipes, and meditations – all tailored to your goals.
Tech that keeps you moving
Download Centr on all your devices to level up and track your results live.