Dan Churchill
How to prepare the perfect steak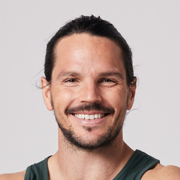 First I gave you a simple template and challenged you to make the #perfectsalad. Now I'm turning up the heat by challenging you to cook the #perfectsteak.
Don't think you've got what it takes to win in the steak stakes? Trust me, you can do it – I'll break it down into six easy steps for you.
Are you ready? Let's get our steak on.
Step 1: Choosing the right cut of meat
From T-bone to ribeye, everybody's got their favorite cut. I love an eye fillet, or fillet mignon, as it's a lean and a super tender piece of meat. If you're a steak newbie, don't be afraid to have a chat to your local butcher and ask for recommendations.
Step 2: Bring it to room temperature
To ensure your steak cooks evenly, you want it to be at room temperature before throwing it on the pan or grill. But how do you get it there? If your steak has been frozen, the best way to thaw it out is by putting it in the fridge for 24 hours. This will keep it at a constant cold and safe temperature.
Once your steak is defrosted, or if you're taking it straight out of the fridge, let it sit on the counter for around 30 minutes – this will bring it up to room temperature and help you avoid the dreaded overcooked outside and undercooked inside.
Step 3: Seasoning
I like to keep seasoning simple and just give my fillet a good sprinkling of sea salt – bringing out the moisture to deliver those delicious crispy edges.
If you want to get a bit more adventurous, you could try a rub with a mix of your favorite herbs, or a combination of salt, pepper, garlic powder and onion powder.
A marinade can send your steak into flavor overdrive. The options are endless, but here are a couple of simple DIY mixes you can try at home:
soy sauce, a bit of honey and orange juice

olive oil, lemon juice and rosemary

soy sauce, oyster sauce and sesame oil.
To really get that flavor in there, place your marinade and steak in a sealed bag, give it a good shake and leave it in the fridge for 12-24 hours.
Want to recreate Dan's perfect steak? Now you can!
Step 4: 15-second turns
Once your steak is on the heat, flip it every 15 seconds. This will keep your cut tender all the way through.
Not the way the grill master at your house does it? That's okay, there are different schools of thought on this – like five minutes on one side and two on the other, or only turning it once.
But the 15-second turns method will ensure you get a nice crust on the outside and a pink middle.
Step 5: Make a herb brush
So you've stuck with the simple sea salt seasoning. Great work. Now let's amp up the taste by giving your steak a nice bit of grooming with a herb brush. A sprig of rosemary makes the perfect brush – give it a little swirl in the pan, then brush it over the top of your steak to really infuse the flavor.
You can also use thyme, sage or oregano… it's up to you!
Step 6: Let it rest
I know your mouth is watering and you really want to dig into that perfectly tender, juicy steak right now... but letting it rest after taking it off the heat and before serving is the most important step of all.
Rule of thumb: rest your steak for twice the amount of time you cook it. This will help retain all those flavorful juices, rather than having them gush out onto the plate the second you cut into it.
With these fingers touching, push on the base of your thumb to test how cooked your steak is.
But wait, how do you know when your steak is perfectly done?
It's time to learn the finger test. In this method, you press the meat with your fingertip and compare it to the feel of pressing the fleshy area between your thumb and the base of your hand.
By joining the tip of your thumb and different fingers, you'll recreate the feel of different levels of doneness.
And there you have it! Steak perfection has been achieved.
Now I've shown you mine, I want to see your #perfectsteak. You can follow my six steps, or do it your way. Want more cooking tips? Sign up with Centr for access to recipes and cooking guides from the team.
Dan Churchill
RECIPES • WORKOUT CHALLENGES
Australian foodie Dan Churchill is taking his fresh, healthy and colorful approach to food to the world as chef and co-founder of New York eatery Charley St. Dan has a Masters in Exercise Science, and was a strength and conditioning coach before switching focus to nutrition. He makes healthy eating easy, and workout challenges sweaty – always with an emphasis on fun.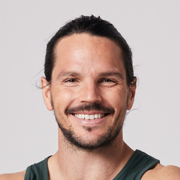 Sign up to unlock your full potential
All your tools in one place
Expert-training to fuel your fitness, nutrition and mindfulness.
Limitless ways to fuel your mind & body
Access to over 3,000 workouts, recipes, and meditations – all tailored to your goals.
Tech that keeps you moving
Download Centr on all your devices to level up and track your results live.