Bobby Holland Hanton
Chris Hemsworth's stuntman reveals how he got a body like Thor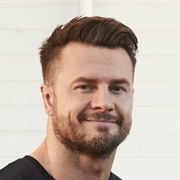 Have you ever watched Chris Hemsworth jump through a window, beat up bad guys or do battle with Loki and thought, "Wow, that's impressive"? While Chris does do some of his own stunts, he leaves the most extreme stuff to his stuntman – Bobby Holland Hanton.
Bobby is a former gymnast, a Hollywood stuntman and is part of the team on Chris Hemsworth's workout app Centr, where he puts members to the test with his HIIT, strength and explosive plyometric workouts. He's also worked as Chris's body double on everything from the Thor films to Extraction, and right now he's deep in preparation mode for their next big shoot, Thor: Love and Thunder. Chris's objective is to be in the best shape of his life for this version of Thor, which means one thing for Thor's body double – transformation time.
So how does Bobby get himself into Thor shape? Well, there's quite a bit to it. Let's find out:
This is a serious transformation – what are the key changes you've made in order to achieve Thor-level muscle?
Bobby: I arrived in Australia at the beginning of November from the UK and had to quarantine in a hotel room for 2 weeks. I had limited space and very little equipment, so I went hard on my Centr workouts during that time which lay the foundations for this transformation – but there was still a lot of work to do once I left quarantine. Building significant muscle in those conditions is very difficult. Once I finished 2 weeks of intense quarantine training, I had 8 additional weeks to get myself into Thor shape – essentially the best shape of my life.
Chris decided he wanted to be in the best shape of his life for this version of Thor. He's been training as hard as he always does, but this is my biggest physical transformation to date. My natural weight is around 185lbs (85kg), I came out of quarantine at around 194lbs (88kg) and I'm currently sitting at about 210lbs (95kg). Most of that is lean muscle mass – I didn't go through body composition tests but I'm at roughly 5% body fat, and the bulk of that gain has happened in 8 weeks.
I also want to make it really clear to people that I'm an ex-British gymnast, I've been training my entire life and my body has become comfortable with these rapid transformations due to the line of work I'm in. My muscle memory helps me transform quickly.
Bobby Holland Hanton
PLYOMETRICS • MUSCLE-BUILDING • MEDITATION
Bobby Holland Hanton is one of Hollywood's leading stuntmen, regularly doubling for Chris Hemsworth and making heroes from James Bond to Batman look good. A former gymnast for Great Britain and semi-pro footballer, Bobby is an expert in explosive movement and renowned for his incredible body transformations. His strength and plyo workouts will inspire you to aim higher.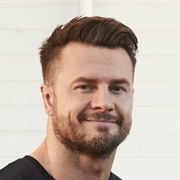 Sign up to unlock your full potential
All your tools in one place
Expert-training to fuel your fitness, nutrition and mindfulness.
Limitless ways to fuel your mind & body
Access to over 3,000 workouts, recipes, and meditations – all tailored to your goals.
Tech that keeps you moving
Download Centr on all your devices to level up and track your results live.