Chris Hemsworth
Chris Hemsworth reveals his muscle-building secrets with Centr Power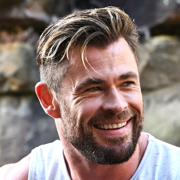 For years the world has watched Chris Hemsworth transform into Thor and asked, 'How does he do it?' We interrupted a weights session to ask Centr's founder that very question.
If you're not already a Centr customer, start your free trial to access Centr Power – the definitive 10-week muscle-building program that was inspired by Chris's training routine for Thor: Love and Thunder.
Let's cross to Chris for the lowdown on his muscle-building journey.
What inspired the Centr Power program?
I have been playing Thor for 10 years now, and every time I train for these movies people are always asking how I do it. It doesn't happen by magic, it's about consistent, targeted work. That's what sparked the idea for Centr Power – to create a program inspired by the training I do for Thor and to share all the knowledge we've gained over the years.
So who's on the Centr Power team?
I designed the program with my personal trainer Luke Zocchi. We've spent years testing and refining to create the most effective and efficient routine possible, and that's what we've put into Power.
When we thought about the best person to lead you through all the Power workouts, it had to be Bobby Holland Hanton, the greatest stuntman in the universe. On every one of these films, Bobby has had to emulate the same body transformation I have made, so he knows exactly what it takes. He's spent the last decade making me look good, now it's your turn!
Our Centr members know and love these guys. Even if you've never lifted weights before, Luke has designed tutorials that are demonstrated by Bobby – so you've got everything you need to get started.
Meet the crew… kind of. Chris, Luke and Bobby will get you into the best shape of your life.
Tell us about your latest transformation for Thor: Love and Thunder. Why was the time right for your biggest, most comic-book-superhero body yet?
Due to COVID, I had more prep time for Thor than I normally would have. So I set a goal for this film that I wanted to be the strongest and fittest I have ever been. Bobby loved getting that call, let me tell you. It makes a big change from the last time the fans saw Thor in Avengers: Endgame, too.
How long did it take?
I was working on a Nat Geo documentary (Limitless with Chris Hemsworth), which included an episode on strength, in early March 2020 when COVID hit. I continued on with the strength training I was doing for that series until June, then we restructured my training towards hypertrophy, or adding mass. I would do 9 weeks of training, then deload every 10th week. That's exactly how we've structured Centr Power. Over 30 weeks I slowly gained weight – starting at 94kg (207lbs) to weighing in at 107kg (236lbs) when we started shooting in January 2021.
How does your diet change when you're in peak bulking mode?
The main difference is how frequently I eat. Which anyone who was on the Thor set will tell you is ALL THE TIME. I would eat roughly every 2 to 3 hours, and would hit 6 meals a day while at work. Then I'd head home and get the remainder of my calories by eating a big dinner after a training session. What's on my plate each day? A lot of rice and sweet potato, a variety of different proteins, and the occasional protein shake with almond butter.
Thor coming to dinner? Check out our interview with Luke Zocchi to discover what Chris ate to achieve his physique.
What are the less glamorous aspects of transforming your physique that people might not know about?
The most challenging part for me is that it can be uncomfortable being that big, especially when I want to continue to surf and do other things I enjoy. Also eating the amount of food you need to gain muscle is a challenge – variety is key so you don't get tired of eating the same thing. If you take on Centr Power you will learn that liquid is your friend. Get those Super Smoothies in to get your calories up.
What's your advice for someone who's not seeing results from muscle-building as quickly as they'd like?
You have to enjoy the process and trust it. That's what will keep you coming back to the gym and putting in the work. Like I said earlier, I have been doing this for 10 years, and as much as I'd love to tell Zocchi where to go sometimes, I have learned to really enjoy my training and the process. The results will come.
One thing people underestimate the importance of in strength training is rest. What does a rest day look like for you?
Rest is something I have learned more and more about over the years. It's so vital for recovery, growing muscle, and ensuring you don't overtrain. I like to keep moving on a rest day, so I'll do a functional workout or go surfing – anything that doesn't involve weights.
Biggest. Thor. Ever. That was the goal, and that's what inspired Centr Power.
How does Centr Power address the challenges involved in building muscle?
Staying consistent with your training, getting your nutrition right for your body type and goals – they're probably the biggest challenges you're going to face day to day. Power addresses those challenges by giving you a plan to stick to that gets results. The program provides a structure and a strong base of training, nutrition and rest, then you can factor in all the individual variables to make it work for you.
You have spent a lot of time in the gym with Bobby prepping for Thor. What can people expect from him as a training partner?
Bobby is an absolute beast in the gym. He's a great training partner because he pushes me to train harder. The only thing I would add about Bobby is that while he trains hard, he looks at himself in the mirror even harder.
Luke says you make a lot of noise in the gym. Is that just to drown out all his coaching instructions?
I'm noisy in the gym because I train way harder than Luke! He isn't one of those people who just yells orders at you. His coaching style is to get in there and train with you – lead by example. A long time ago, I would train all day and get nowhere. Luke's style is to make it as efficient as possible, structuring workouts to get the most out of a minimal amount of time. I appreciate that a lot. But don't tell him that.
Ready to follow in Chris Hemsworth's footsteps? Centr Power includes 3 training levels – Beginner, Intermediate and Advanced – so no matter where you're at, you can start building muscle today. Not a Centr customer yet? Start your free trial today at Centr.com to kick off your own transformation with Centr Power.
Sign up to unlock your full potential
All your tools in one place
Expert-training to fuel your fitness, nutrition and mindfulness.
Limitless ways to fuel your mind & body
Access to over 3,000 workouts, recipes, and meditations – all tailored to your goals.
Tech that keeps you moving
Download Centr on all your devices to level up and track your results live.