MUST READ
•
Alexz Parvi
21 big questions with Alexz Parvi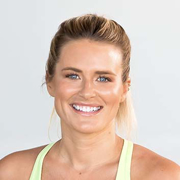 You will sweat, you will burn, you will shake, you will smile, and you will definitely love every minute of working out with Alexz Parvi.
Chris Hemsworth and the team searched the globe to find a new trainer who would be the perfect fit. As it turned out, she was just around the corner – the founder of a cult fitness studio in Australia's Byron Bay and Gold Coast. Alexz (it's pronounced "Ah-lex-see") is a pocket rocket coming to put a fire under your fitness with no-equipment bodyweight HILIT workouts designed to shape, define and tone.
She may live Down Under now, but Alexz first stepped foot into a gym in Canada at age 16 to start her very first job, and never looked back.
"I will be real with you, challenge you, push you and support you all the way to your goals."
To help you get to know your new favorite trainer, we sat Alexz down to ask 21 burning questions.
1. What's the one thing you want everyone to know about your style of training?
My training style is very unique. I've taken inspiration from other training modalities to create exercises that bring a strong burn to the entire body. My moves are really fun and effective, and I promise they are adaptable for all fitness levels.
2. We've just finished one of your workouts. What are the top 3 things you want to see on us?
Sweat, the muscle shakes, and that smile that says, "yes, I've done it!"
3. Do you remember the moment you fell in love with exercise?
Growing up I was always a bit of a Sporty Spice. Ever since I was little I have loved staying active – running, swimming, skiing or dancing. Moving my body, being outdoors and learning new ways to train have been my biggest passions for as long as I can remember.
Want a taste of the fire to come? Try a preview Bodyweight HILIT workout with Alexz now.
4. Name the best thing and worst thing about fitness culture on social media.
The best thing is discovering like-minded trainers and watching them motivate others, achieve their goals and inspire people to become better versions of themselves. That is really powerful.
The worst thing would definitely be the socially-constructed pressures we put on the female body. There is an over-saturation of unhealthy body 'norms' in the fitness industry, especially for young teens, and it breaks my heart.
5. You can teleport back in time to meet your 16-year-old self as she's about to step into a gym for the first time – what do you tell her?
I would tell my 16-year-old self: "You are more than enough, you are strong enough, you are beautiful enough, and please don't ever let your joy of fitness be lost among the chaos of this industry. You love to train, you love to be active, you love to achieve. Don't ever get consumed by anything else because this is why you love what you are doing."
6. What's the funniest thing that's happened to you while leading a class?
One morning at my Byron Bay studio I got really into singing my favorite song on the microphone. I decided to really belt it out to entertain the girls. Then two fully uniformed officers arrived at the studio. It turns out that a neighbor confused my singing for a lady screaming for help. I've settled down on the singing performances since then.
7. You're training us, but you can see that we're struggling. How do you get us across the finish line?
I will remind you that you can, that your mind is the first thing to want to give up, but your body can do so much more.
I will encourage you if it's hard, whatever position you're in, focus on that breath, close your eyes and go somewhere else.
If you can dance, dance. I will start to dance for you too if that helps! If you have the energy to sing, sing. Distract your mind from that internal chatter so your body can stay focused on getting the task done.
Alexz summons the police.
8. What tune will be on your training playlist forever?
Boss B*tch by Doja Cat. It is just the best.
9. Let's talk food. Describe your nutrition philosophy in three words.
"Live your life."
Live in balance and eat healthy food, but don't be too serious. I live by the 80/20 rule. So that's 80 percent healthy in all areas of your life and 20 percent indulgent. Life is too short to be too strict but it is so important to implement the tool of balance. Also, believe it or not, I am the most basic eater. I really don't enjoy cooking so please don't be expecting any chef-like recipes by myself anytime soon!
10. How do you eat an Oreo?
Oh my god, this is my favorite question so far. Being Canadian, I'm the Oreo Queen. I only eat Double Stuffed Oreos – remember, it's called balance. I take off the cookie bits, I eat the icing, and then I'll eat the cookie last. Correct me if I am wrong but that is the only way to eat Oreos, no?
11. We know you like to keep it real. So what's a fitness cliche that you would never say to a Centr member?
The expression "No pain, no gain." I understand that it is fun to say and I've used it myself, but realistically it is not true. I prefer "No push, no reward." Things do not need to be painful to change you, they just need to challenge you. From challenge comes growth and from growth comes reward. That goes for everything, in the gym and in your life.
12. Which exercise do you hate with a burning passion?
I strongly dislike, with a deep burning passion, burpees. I don't know... something about them just makes me instantly roll my eyes and rethink my whole workout. That's a bit dramatic but it's true. I promise my Planner workouts are 100% certified burpee-free, but please don't worry, if you love a good burpee the other trainers definitely have you sorted.
13. Sweat patches: totally gross or proud sign of an epic workout?
Moving to Australia from Canada I had to get used to sweat patches very quickly. They are most definitely a proud sign of an amazing workout. Sometimes I think I subconsciously use them as a sign of how hard I challenged myself during my workout.
14. You realise your tights are see-through in the middle of a class. What do you do?
I mean, you just carry on. Half the tights anyone owns are see-through, so no one's surprised. If someone is staring at your see-through tights and not focusing on their workout that is another problem in itself. Just rock the tights! It's 2021 baby, let's call it fashion.
15. Dogs or cats?
Dogs, except I definitely think I was a cat in my past life.
You can invite Alexz around for popcorn, but don't ask her to cook.
16. Meditation means something different to everyone. What does it look like for you?
I was taught the tool of meditation at a very young age by my parents. My siblings and I meditated as part of our normal routine through primary school all the way to high school. To this day I have a regular transcendental meditation practice.
Meditation and movement are my saving grace and the primary coping strategies I use to deal with and overcome anything difficult in my life.
17. If you created a Centr meditation, what would it be called?
I think I would like to name it 'Breathe Through It' or 'Feel Through It'. I strongly believe that emotions arise because they need to be felt, but we are taught in society to suppress them.
Over the years I have slowly learned to sit with my emotions, to feel them fully and find calm in the knowledge that they will pass. Meditation has been a wonderful experience for me and I can't wait to dive into it a little deeper with all of you.
18. You can change one thing about the fitness industry overnight – what are you changing?
I would love for trainers to talk about their mental strength as much as they do about their physical strength.
19. What's something about Australia that you still don't quite get?
It still blows my mind that people do not wear shoes everywhere they go. I have decided to live in Byron Bay, of all places, and it is basically the no-shoe-wearing capital of Australia, so the horror of dirty sidewalks and dirty feet lives with me every single day.
20. What is the most Canadian thing about you?
I will hug every single person when I first meet them. Not like a short sweet hug, a really long and awkward bear hug. It's a Canadian thing, I grew up doing it and honestly it doesn't matter who they are, I will always go in for a hug, squeeze the person super tight and wait a couple of seconds before I let them go. Some people just love it, others maybe not so much.
21. What does joining the Centr team mean to you?
It means I get to grow my family. I'm really excited to be able to grow with such like-minded, yet individual and authentic trainers on Chris's team. It also means I get to share my fun and engaging fitness style with all these amazing members all over the world. I've heard all about how legendary you all are and I feel so lucky to be a part of your amazing community.
Alexz officially joins the Centr Team on November 15. If your goal is set to Lose Weight or Get Fit & Toned you will see Alexz's workouts in your Planner. Otherwise you can find her in the Explore section whenever you're ready to feel the burn.
Alexz Parvi
HILIT
Pocket rocket Alexz Parvi's HILIT circuits will make you sweat and shake to shape, define and tone. Certified personal trainer and founder of cult fitness studio Hustl in Australia's Byron Bay and Gold Coast, she's also a certified teacher of barre, and mat and reformer Pilates.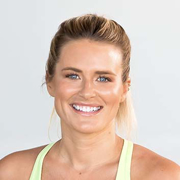 Sign up to unlock your full potential
All your tools in one place
Expert-training to fuel your fitness, nutrition and mindfulness.
Limitless ways to fuel your mind & body
Access to over 3,000 workouts, recipes, and meditations – all tailored to your goals.
Tech that keeps you moving
Download Centr on all your devices to level up and track your results live.