FITNESS
•
Ingrid Clay
7 tips for feeling great in your 40s and beyond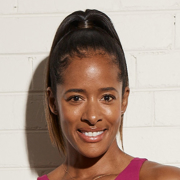 Consider this a call to action for all my over 40s!
It's time to stop caring about age. Some say it's nothing but a number. I say it's a number we put way too much pressure on. Instead, let's practice focusing on how we actually feel, not how we think we 'should' feel at any given stage.
No more limiting mindsets. No more feeling excluded by the glossy, youthful image the fitness industry presents. The purpose of fitness is to increase longevity and promote healthy bodies at any stage.
I'm here to help by sharing my top tips to keep getting better, no matter your age.
Here's to feeling better than ever in our 40s and beyond.
1. Shift your definition of "peak fitness"
We often equate "youthfulness" with our "peak" when in fact, our peak is more about our overall health.
Honestly, I didn't hit my physical peak til I was in my mid-30s. I look better now in my 40s than I ever did at 20 – from the inside out!
I got here by taking on board a lot of the tips I'm sharing here with you. Building my strength, nourishing my body with food that makes me feel good, and speaking positively to myself and my body.
2. Recover harder than you train
Like most people in their 20s, I had absolutely no recovery plan. To be honest, I had no real idea of the benefits of recovery. I did a lot of what I now call "pretend" stretching – you know, those arm-across-the-chest stretches or a 10-second quad stretch on each leg.
As an athlete, I should have known better!
Post-workout nap? Don't mind if I do.
Fast forward 20 years and I'm here to tell you that while you train hard, you need to recover harder. It's time to revamp your routine to incorporate:
daily stretching and/or mobility work

icing (whether with a pack or a quick cold dip) for inflammation

heat (it could be a sauna or heat pack) for muscle soreness

foam rolling on your rest days

regular massages
Don't forget that good nutrition, drinking tons of water and getting plenty of sleep are essential for recovery, too.
---
"
The best advice I can give you is to stop fighting against change.
"
---
3. Don't be afraid of change
As you grow older, your body will change and your 'why' will change. When I was younger, my only goal was being smaller. That was my entire training plan! If you're hitting the gym now because you want to keep up with your kids or lower your risk of diabetes, that is a perfectly valid 'why'.
The best advice I can give you is to stop fighting against change.
Keeping it real, as women we are always battling with our bodies: what they look like, why it doesn't look like 'that', hating this area and that area. The female body goes through so many changes and there have been moments where I hated it, loved it, resented it and was disappointed in it.
We need to end the fight. Ending the battle with your body allows room for growth and positive change.
For instance, I adopted a plant-based diet in my 30s. As a competitive bodybuilder I used to eat 6-7 meals with meat a day. I looked great, but I always felt heavy, almost like I was being dragged down. I slowly made the change and feel so much lighter and healthier now.
Don't be afraid to try and fail in order to find what works for your lifestyle and makes you feel better.
4. Do it for you
One thing I definitely did not appreciate about fitness when I was younger is that there are more benefits than looking hot! These days, the physical and mental health benefits are my priority – it's about holistic health.
Think about it. When we get into our 30s, 40s and 50s, we're usually dealing with a lot more responsibility. So carving out time to improve your body, mind and soul is invaluable. You can't be everything to everyone if you aren't everything to yourself!
Repeat after me: self-care isn't selfish.
5. Don't stop HIIT
HIIT is amazing to do as we age! High-intensity interval training can help to reverse the muscular decline that comes with aging, reduce abdominal fat and improve your cardiovascular fitness – thus decreasing your risk of heart disease.
HIIT can also lower blood pressure, which can be the source of many health problems, and help your body manage insulin and cholesterol. Who knew, huh?
Keep training with intensity and you will keep smashing goals.
6. Keep lifting
Don't let your dumbbells (or yourself) gather dust. Lean muscle mass naturally diminishes with age – and if you don't do anything to replace that lean muscle, your body fat percentage will increase over time.
So stick with me and keep smashing those strength training workouts. Whether it's a HIRT session or straight muscle-building, any form of resistance training will help you preserve and enhance muscle mass. It will also contribute to better balance and coordination as you age.
7. Know what's possible
Chances are you're going to have different goals and a different outlook than some 21-year-old fitness influencer. Rather than beating yourself up for what you can't be, keep it real and find some positive role models to follow.
One of my biggest heroes is Chef Babbette – she is 75 and absolutely fabulous. She trains hard, eats healthy, has a balanced mindset and a positive mind. Total GOALS!
As for me, I'm at the stage where it's all about loving the body I'm in. Being comfortable with where I am, but knowing I can always get better.
Ingrid Clay
HIIT HIRT • STRENGTH
Ingrid Clay will get you lifting strong and burning it up with bodyweight in HIIT HIRT Strength workouts. Ingrid is a NASM Certified Personal Trainer and plant-based chef who draws on her physics and engineering background to sculpt bodies through exercise and nutrition. She's also an NPC National qualifier bodybuilder and author of The Science of HIIT.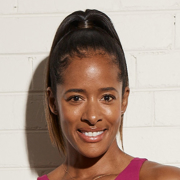 Sign up to unlock your full potential
All your tools in one place
Expert-training to fuel your fitness, nutrition and mindfulness.
Limitless ways to fuel your mind & body
Access to over 3,000 workouts, recipes, and meditations – all tailored to your goals.
Tech that keeps you moving
Download Centr on all your devices to level up and track your results live.