Michael Olajide Jr.
What us mortals can learn from Michael Olajide Jr.'s Supermodel Bootcamp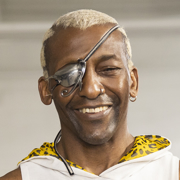 You might not think that boxing training and sparkly angel wings go together, but legendary trainer Michael Olajide Jr. is here to tell you they do.
Michael, whose silky moves in the ring once had him tipped as No. 1 contender for middleweight boxing world champion, is well known for his 'supermodel boot camp.' The England-born fighter shifted gears into training others when an eye injury put an end to his boxing career. It was here that his motto 'adapt or die' was coined, and it's an ethos that hums through everything he does, introducing people who might never have picked up a pair of gloves to intense boxing training.
---
"
When I see my clients and our members throwing that jab the way a professional fighter would throw a jab, I'm just like the happiest person on earth.
"
---
"When I see my clients and our members throwing that jab the way a professional fighter would throw a jab, I'm just like the happiest person on earth," Michael says, beaming.
He's the guy that Victoria's Secret Angels go to when they want to be whipped into catwalk shape. Adriana Lima has been one of his top students. "She is amazing, her heart, her passion, her fire. That's her focus in her intensity."
That intensity is something Michael believes everyone can get from a good boxing workout, a benefit he likes to call "aggressive meditation." For his supermodel and superhero charges, who might be stressed out ahead of a big show or movie shoot, Michael's intense boxing training sessions help them, funnily enough, achieve a sense of inner peace.
"Sometimes you just want to scream, you know what I mean? But there aren't those options, especially for city dwellers," he chuckles. "That's what I love about this kind of exercise. With jump rope you fatigue yourself, take your mind out of the present, and you're able to shift to something better. When you finish you see other options, you see better things. You're investing in yourself so you feel much more comfortable and confident. What other people say and do [doesn't] really matter in your existence and that's really important."
So if you've never set foot in a ring, but you've found yourself wondering whether boxing training might be for you, Michael's Centr workouts will put your mind and body to the test.
"We'll be working on things like your speed, your timing, your endurance, visualization, things that really challenge your body [and] your mind in a way that you haven't before," he says. With a big smile, he adds, "I'm pretty sure it's going to be fun."
Michael Olajide Jr.
BOXING • MEDITATION
The pioneer of boxing for fitness, Michael Olajide Jr. has trained supermodels and turned actors into on-screen boxers. Famed for his silky moves, he was the No.1 contender for middleweight world champion until an eye injury ended his career. Michael melds shadow boxing, jump rope and HIIT to train the body, and uses 'the world's most calming voice' to train the mind.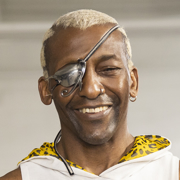 Sign up to unlock your full potential
All your tools in one place
Expert-training to fuel your fitness, nutrition and mindfulness.
Limitless ways to fuel your mind & body
Access to over 3,000 workouts, recipes, and meditations – all tailored to your goals.
Tech that keeps you moving
Download Centr on all your devices to level up and track your results live.