Dr. Eric Goodman
Dr. Eric Goodman explains why pain doesn't have to mean quitting exercise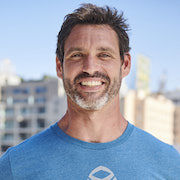 Hang around any gym long enough and you'll hear the magic words, "I can't do [exercise] because my [body part] hurts." Pain can stop a fitness or strength training journey before it's even begun – just ask Dr. Eric Goodman, who created Foundation Training after almost a decade of back pain.
"I've had back injuries since I was 19 years old," he recalls. "By 27 years old I was so frustrated. I had been to several doctors along the way, I tried lots of rehabilitation, I tried lots of conventional exercise therapies and it just wasn't working for me. Eventually I was told I needed fusion surgery."
---
"
I want everybody to do 10–20 minutes of foundation training a day so that...they have the spinal and structural integrity to not hurt themselves.
"
---
Not prepared to accept a spinal fusion operation as his last resort, Eric focused his energy on researching the posterior chain muscles, and how they could be trained to help pick up some of the slack that the spine tends to carry by itself.
"Our modern way of life has really altered our movement patterns a lot," Eric explains. That's the bad news, but the good news is that a stronger core can get all these areas working in harmony once more, no matter how often you slump at your laptop during a Netflix binge.
Eric and his team designed Foundation Training to work as an accessory to strength training, helping ensure that lifting heavy and building muscle doesn't throw the body out of balance in a different way. What's more, it can even work to prevent future injuries.
"I want everybody to do 10–20 minutes of foundation training a day so that when they go into their next exercise protocol, when they play their sport, when they go to their profession, when they sit at their desk, whatever it may be, they have the spinal and structural integrity to not hurt themselves in doing so, and that's the gist of the work right there," Eric says.
Centr's own Chris Hemsworth is a huge fan of Foundation Training, even if Eric initially didn't realize he was dealing with a superhero. "I had no idea who he was. I got a phone call from him and he told me he had a bad back, he told me he was friends with a couple surfers that I know – I figured he was just some surfer. Then I meet him: 'Thor, I know you,'" Eric laughs.
Dr. Eric Goodman
CONDITIONING • RECOVERY
As the creator of Foundation Training, Dr. Eric Goodman has made it his mission to help people manage chronic pain and improve performance. A chiropractor with expertise in physiology and biomechanics, his exercises will help you retrain your body to take the strain off your spine and joints. Eric is also the author of True to Form, which features a foreword by Chris Hemsworth.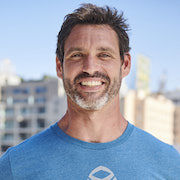 Sign up to unlock your full potential
All your tools in one place
Expert-training to fuel your fitness, nutrition and mindfulness.
Limitless ways to fuel your mind & body
Access to over 3,000 workouts, recipes, and meditations – all tailored to your goals.
Tech that keeps you moving
Download Centr on all your devices to level up and track your results live.