Tahl Rinsky
Why Tahl Rinsky says yoga is not just for hippies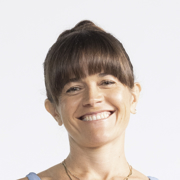 It's safe to say that Tahl Rinsky doesn't just love yoga, she lives it. The Byron Bay-based instructor fell in love with the practice while watching her mom's yoga sessions as a kid. She followed her heart all the way to Byron, where she is now co-owner of Creature Yoga Studio.
"I actually came to Byron Bay to follow yoga. As you do in Byron Bay," she laughs. "But my first yoga teacher and my primary yoga teacher for the last 15 years, Dena Kingsbird, lives here. And I came on a retreat, like everyone from Melbourne does, and fell in love with the sun and ocean and rain and decided to move here so I could do teacher training."
---
"
The vinyasa yoga I teach has a dynamic focus. It's quite strong and I can incorporate my fitness workouts... if I don't have time to do both."
"
---
It was through yoga, too, that Tahl met and became friends with Centr's own Elsa Pataky. Introduced by a fellow yoga student, Elsa had heard about Tahl's talent for taking beautiful yoga photographs, and so invited the yogi over for a casual photoshoot. "I went over and I took beautiful photos of her and her kids. And then it kind of took shape from there. She was like, 'Oh maybe you can teach me!"
Though Tahl might call herself an unconventional yoga teacher, she made sure to learn the rules before she began to break them. "I spent 10 years studying very traditional yoga and went down that path," she explains. "And then I went into discovering who I was and incorporating things I love, like electronic music 'cause I like to listen to it. I incorporate a lot of strength-building exercises because I enjoy that. And the things I talk about will stem maybe from yogic philosophy, but I'll speak more from my own personal experience."
Despite what you might think given her location and the whole professional-yoga-instructor thing, Tahl is adamant that yoga practice doesn't have to make you a hippie. In fact, she'd prefer if it didn't. Tahl's yoga classes on Centr are in a dynamic Vinyasa style that will challenge your body in new ways.
"The Vinyasa yoga I teach has a dynamic focus. It's quite strong and I can incorporate lot of my fitness workouts within my yoga practice if I don't have time to do both."
But it's not only fitness she's after when she teaches. "I really believe that the movement of yoga acts as a gateway for people to live a more mindful and peaceful life."
Tahl Rinsky
YOGA • MEDITATION
For classic yoga with a modern twist, Elsa Pataky turns to one woman: Tahl Rinsky. Born in New York and raised in Israel, Tahl is a Yoga Alliance ERYT200 and RYT500 certified instructor, and co-owner of Creature Yoga in Byron Bay. Her dynamic Vinyasa style of yoga balances flexibility and sweat, flow and strength, focus and stillness to better connect body, breath and mind.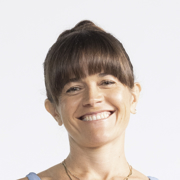 Sign up to unlock your full potential
All your tools in one place
Expert-training to fuel your fitness, nutrition and mindfulness.
Limitless ways to fuel your mind & body
Access to over 3,000 workouts, recipes, and meditations – all tailored to your goals.
Tech that keeps you moving
Download Centr on all your devices to level up and track your results live.