Sergio Perera
Food revolutionary Sergio Perera wants you to get fresh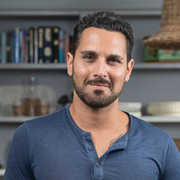 If you've ever watched one of Centr trainer Luke Zocchi's hilarious Instagram meal prep videos and wondered who the mysterious food wizard "Serge" is, wonder no more. Sergio Perera's food journey has taken him from a youth in Spain to training in kaiseki in Japan to the kitchen of legendary chefs Ferran Adria and David Chang. Now, his think tank Arrel is working towards revolutionizing the farm-to-table experience.
---
"
I incorporate a lot of what I've learned throughout the world, just bringing together the most important element which is finding the best ingredients.
"
---
But for someone with a background in such highly technical cookery, Sergio's food philosophy is pretty no-fuss. "I incorporate a lot of what I've learned throughout the world, just bringing together the most important element which is being anywhere in the world and finding the best ingredients," he says. "The freshest ingredients. Local ingredients. And sticking to that, just understanding the culture, and just working with clean food, clean everything."
In fact, it was Sergio's fresh and clean approach to cooking that led him to work with Centr's own Chris Hemsworth, when Chris came to visit his Los Angeles restaurant about seven years ago.
Sergio recalls, "Chris was working on Thor and he needed some help with his nutrition. He was doing quite a bit of bulking at that time so he needed a bit of a fix up on his diet because he was getting bigger, but at the same time he wasn't feeling as healthy."
Chris was already familiar with the traditional yet tiresome bulking diet of plain chicken and rice, so Sergio took it upon himself to help the God of Thunder get huge without sacrificing flavor or excitement.
"He was never much of a seafood fan, he was always a big meat eater," Sergio explains. "I think the reason for that was because he never really experienced fresh seafood. Everything I buy is always freshly caught. I've shown him so many different types of seafood that he had never liked before and now he loves it."
Since then, Sergio has continued to advise and educate Chris on his diet, helping him to bulk up or shred down, sometimes quickly, depending on the role he's about to tackle.
It's this fresh and vibrant approach to food that Sergio brings to Centr members worldwide – and don't worry, you won't have to learn any fancy food prep tricks. "A lot of what I've done throughout the years of recipes tend to be very technical, but when you introduce a recipe or show a recipe to somebody, you really have to explain it to them the way you would do it personally. Explain those steps one by one, as if you were cooking for your mother or your father or your cousin, anybody."
Sergio Perera
RECIPES • MEDITATION
Sergio Perera has worked in the world's finest kitchens, including Spain's celebrated elBulli, and as on-set chef and nutrition consultant to Chris Hemsworth. While he explores new frontiers in gastronomy and sustainability through his research lab Arrel, he's also helping you fuel up with simple recipes and amazing flavors, then switch off with much-loved meditations.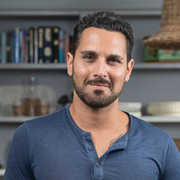 Sign up to unlock your full potential
All your tools in one place
Expert-training to fuel your fitness, nutrition and mindfulness.
Limitless ways to fuel your mind & body
Access to over 3,000 workouts, recipes, and meditations – all tailored to your goals.
Tech that keeps you moving
Download Centr on all your devices to level up and track your results live.