Tiffiny Hall
How Tiffiny Hall realized martial arts can change a woman's perspective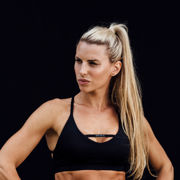 Tiffiny Hall has been at the crest of a wave of women whose lives have been made over by martial arts training.
A 6th Dan black belt in Taekwondo, the mom of one got a head start by being born into a martial arts family. "My dad was an Olympic coach for Australia for Taekwondo, and my mum was one of the first females to earn her black belt in Australia," she says. "They run martial arts schools in Melbourne, Australia, and I grew up doing martial arts, kicking as soon as I could walk. It's been my greatest passion in life doing Taekwondo."
Tiff was 16 when her dad coached Lauren Burns to Olympic gold in the sport in 2000, and it was a life-changing moment for the young martial artist. "I remember watching and thinking, 'I want to inspire women to be strong and feel empowered,' just like she had inspired me," Tiff says.
That sense of empowerment goes beyond mere fitness (even though Taekwondo training can certainly get you ripped), Tiffiny explains. "Taekwondo helped me to process emotions, to deal with stress, to deal with failure, to deal with negativity, and channel that in a positive way," she says. "So it was never about fighting, it was about finding an inner balance and an inner acceptance and peace, and it's something that I carried with me ever since."
If you haven't tried fighting training since a "Sensei" gave your class an all-girls' self-defense lesson in high school, don't panic. "I'm so excited to give others the gift of confidence. I think that through your training you can become more confident because you learn ways of being stronger," Tiffiny says. "Ways of being stronger that you never knew you had inside of you.Whether that's just one more rep or one more round, you learn to push through. And that builds resilience and resilience through training, that leaks into every other part of your life."
Tiffiny Hall
HIIT • HIRT • MMA
Tiffiny Hall is a 6th Dan Taekwondo black belt with HIIT HIRT MMA workouts that will kick your butt. A certified personal trainer (Certificate III & IV in Fitness), with a Diploma of Sports Coaching, she rose to prominence on TV with Gladiator and The Biggest Loser Australia, and has published numerous fitness books. A master of motivation, she'll get you lean and sculpted.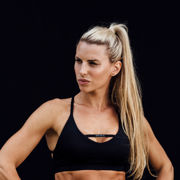 Sign up to unlock your full potential
All your tools in one place
Expert-training to fuel your fitness, nutrition and mindfulness.
Limitless ways to fuel your mind & body
Access to over 3,000 workouts, recipes, and meditations – all tailored to your goals.
Tech that keeps you moving
Download Centr on all your devices to level up and track your results live.