Bobby Holland Hanton
How hard does a stunt guy train? Just ask Bobby Holland Hanton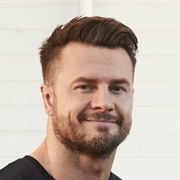 If you've watched a blockbuster in the past decade, chances are you've seen Bobby Holland Hanton in action. The 6'1" Brit has doubled for everyone including Daniel Craig (Quantum Of Solace), Christian Bale (The Dark Knight Rises) and Centr's own Chris Hemsworth, who he has doubled for the past eight years and counting.
"Meeting Chris Hemsworth and becoming his stunt double was huge for me," Bobby says. "I pinch myself sometimes. I've been so lucky some of the jobs I've done. Some of the superheroes that I've stunt-doubled for – it's every boy's dream I think."
---
"
[Chris] is literally up on man mountain. He's 6'4" and I'm 6'1". So I have to wear 2-inch lifts in my shoes at work... it's like trying to do stunts in high heels.
"
---
But if you've ever found yourself watching an action movie and thinking, "Hmm, maybe I could become a stunt performer," Bobby is here to tell you it takes a lot more than jumping off a building and into a giant mattress.
"You have to train all these skills and get qualified in each of them before you become a professional stunt performer in the UK," Bobby explains. Though he was already a former gymnastics champion, getting certified meant mastering everything from scuba diving to kickboxing, trampolining to the 25m high dive, parkour to acrobatics.
The training was intense, but nothing prepared Bobby for how much he'd need to eat in order to look like a superhero. "Doing Thor stuff is almost a job in itself by trying to get anywhere near hissize. I never thought I'd hear myself say that I was sick of eating, but sometimes it felt that way," he laughs.
So what's it like being training partners with the God of Thunder himself? "He's literally up on man mountain. He's huge. He's 6'4" and I'm 6'1". So I have to wear 2-inch lifts in my shoes at work, so it's like trying to do stunts in high heels. It's ridiculous. But that's commitment!"
Because of the nature of his work, Bobby needs to be able to change his body quickly. His maintenance training keeps him in a "middle ground" where he can bulk up or lean down quickly, so he trains six days a week. This means he's learned a thing or two about those days where heading to the gym feels like the last thing on earth he'd rather do.
So, what's his stunt-guy advice for mere mortals who've hit a training wall on Centr? "While you're thinking, 'I can't be bothered,' just get up and go," he says. "Jump up, grab a coffee, get in the gym and bang out 20 minutes. Once you've finished training, that hour afterward is the best feeling, because you know you've done something good for your body."
Bobby Holland Hanton
PLYOMETRICS • MUSCLE-BUILDING • MEDITATION
Bobby Holland Hanton is one of Hollywood's leading stuntmen, regularly doubling for Chris Hemsworth and making heroes from James Bond to Batman look good. A former gymnast for Great Britain and semi-pro footballer, Bobby is an expert in explosive movement and renowned for his incredible body transformations. His strength and plyo workouts will inspire you to aim higher.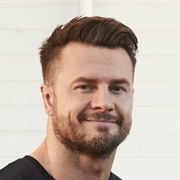 Sign up to unlock your full potential
All your tools in one place
Expert-training to fuel your fitness, nutrition and mindfulness.
Limitless ways to fuel your mind & body
Access to over 3,000 workouts, recipes, and meditations – all tailored to your goals.
Tech that keeps you moving
Download Centr on all your devices to level up and track your results live.