Palisa Anderson
What farm-to-table restaurateur Palisa Anderson eats every day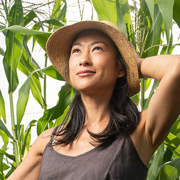 Food is Palisa Anderson's life. She has expanded the family business that began with her mother's Chat Thai restaurants in Sydney to include several more eateries and stocks them all with organic produce from her Boon Luck Farm in Byron Bay. But when she finally sits down to eat, what's on her plate?
Part of the reason I'm so excited about being a part of Centr is that it is helping to spread the message that we can all live a healthier, more sustainable and happier life.
It is evidence that, as a community, our eyes are opening to the fact that we don't have to pillage the environment. We can add to it. We can be nurturers. We can be growers. We can be givers. And through the most basic human need, food, we can start to heal the environment.That's why I started my Boon Luck Farm in Byron Bay, and why I'm helping Chris and Elsa plant their own sustainable patch there, too.
It's a philosophy you will see in action if you drop by any of our restaurants in Sydney, or our Jarern Chai Asian Grocers, or if you were to poke your head into my pantry!
Palisa plucking goodness straight from the ground at her Boon Luck Farm in Byron Bay.
An average day on my plate looks like...
I start my day early with warm water and lemon/lime or apple cider vinegar. A couple of hours later, I will have a green juice made with weeds, greens and herbs, citrus and a handful of fruit and berries. Then around 11am I have a coconut with a double ristretto (coffee). I usually eat a moderate lunch around 12.30pm – mainly organically grown vegetables in many forms. Dinner time is spent with my kids. I'll have mainly vegetables flavored with meats or seafood, both fresh and fermented.
---
"
Everything in moderation including moderation – which means yes, I occasionally indulge, too!
"
---
My weekends are for preparation...
I cook on the weekends to make the rest of the week easier. I'll prepare lots of different ragus and sauces – which I can then just throw together with a freshly cooked base during the week. Having great staples you can go straight to in the fridge and pantry makes cooking delicious healthy food manageable and, dare I say it, easy!
Why I eat the way I do.
My body thrives on this kind of diet. Vegetable heavy (fresh and fermented), with lots of fresh nuts, good fats and loads of herbs. A little whole grain and a little sustainably caught seafood and organic pasture-raised meat... Everything in moderation including moderation – which means yes, I occasionally indulge, too!
Palisa Anderson
RECIPES
Palisa Anderson grew up in the kitchens of Sydney's Thai institution Chat Thai, and has expanded the family business to include Boon Café, Jarern Chai Asian Grocers, and the hawker-style Samosorn. These eateries are stocked with produce from her organic Boon Luck Farm in Byron Bay. Palisa is also host of Water Heart Food on SBS. Now she's sharing her Thai favorites with you.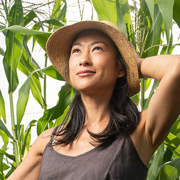 Sign up to unlock your full potential
All your tools in one place
Expert-training to fuel your fitness, nutrition and mindfulness.
Limitless ways to fuel your mind & body
Access to over 3,000 workouts, recipes, and meditations – all tailored to your goals.
Tech that keeps you moving
Download Centr on all your devices to level up and track your results live.