Tiffiny Hall
5 ways HIIT, HIRT & MMA can help you train better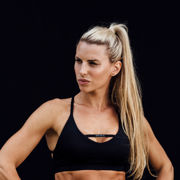 Okay, so I know you've all probably heard the acronyms HIIT, HIRT and MMA thrown around, but first up, let me break them down for you so you know what they mean.
HIIT = high-intensity interval training
HIRT = high-intensity resistance training
MMA = mixed martial arts
All of the above mixed together in my new Centr workouts give you muscle building, fat burning, high-shred training sessions like you've never experienced before – and best of all, they'll have you feeling strong, lean and loving life! This is my absolute favorite way to train and here's why.
1. No messing around – get it done in no time.
I promise this way of training won't have you exercising for hours on end – no way, who wants that? Your training will be ticked off in 20-25 minutes, meaning you can squeeze it into your day easier and finding time to exercise won't become a chore.
2. Fast and furious blasts fat.
The work/rest interval style of HIIT and HIRT will have you giving your all for quick bursts of intense exercise, followed by periods of rest – burning maximum fat and calories as you go. How? The quick, intense exercise bursts will challenge your body's metabolic response, so fight hard for it and know you've got a rest coming up!
3. Burn calories even when you're not moving.
How good is it to still be burning calories for hours after a training session? I have another acronym for you – EPOC! EPOC = exercise post oxygen consumption, better known as the 'afterburn effect.'
Spotted: Tiffiny (after) burning calories
Huh? In short, varying your speed, power and intensity during a workout gives your body something to recover from when you finish. A couple of the recovery responses of EPOC are the release of more fat stores and a faster metabolism – so after all that fight you put into your session, you will be burning more calories and energy for hours while you sit at your desk or hang out with your kids.
4. Goodness for the mind and soul.
It's not just your body that will receive the benefits of your workouts – when you exercise, you release a whole bunch of natural, juicy, happy endorphins that keep your mind and soul vibrating on a much higher level. If life throws you a curveball or you're in a funk, feeling tired, stressed or agitated for any reason – jump on into a workout and I guarantee you'll feel amazing for it!
5. No fancy equipment or gym membership necessary.
The beauty of these workouts is that you don't need to buy fancy equipment or join the newest gym in town (you've got Chris Hemsworth's expert team in your pocket for that!). You can use your body weight for resistance and if you need to add any weight to an exercise, you can raid the pantry for tins, jars or bottles! You can also train anywhere and at a time that works for you – in your living room when you first get up in the morning, the back garden while your little one is sleeping or grab a friend and head to the park or beach.
Tiffiny Hall
HIIT • HIRT • MMA
Tiffiny Hall is a 6th Dan Taekwondo black belt with HIIT HIRT MMA workouts that will kick your butt. A certified personal trainer (Certificate III & IV in Fitness), with a Diploma of Sports Coaching, she rose to prominence on TV with Gladiator and The Biggest Loser Australia, and has published numerous fitness books. A master of motivation, she'll get you lean and sculpted.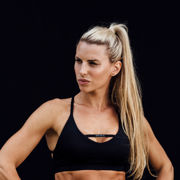 Sign up to unlock your full potential
All your tools in one place
Expert-training to fuel your fitness, nutrition and mindfulness.
Limitless ways to fuel your mind & body
Access to over 3,000 workouts, recipes, and meditations – all tailored to your goals.
Tech that keeps you moving
Download Centr on all your devices to level up and track your results live.