Palisa Anderson
Palisa's 8 simple steps to growing your own food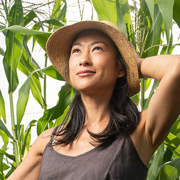 Nowadays, Palisa Anderson stocks multiple restaurants and feeds her family from her own certified organic farm in Byron Bay, Australia. But did you know she started with just a few small pots of herbs on her balcony?
Palisa has a philosophy that at least 10 percent of what you eat should be something you don't have to buy – something you have grown yourself.
"By growing my own food, I'm taking care of myself the best way I know how," Palisa says. "Not only do you get to nurture something, you also get to see something go full cycle and when you put it in your body, you feel so much better."Growing your own herbs, vegetables and even fruit is a lot easier than it may seem. Follow Palisa's tips and you'll be stocking your own kitchen in no time.
Some chefs and restaurateurs talk "farm-to-table," but Palisa Anderson lives it, too.
1. Find a place for your patch
If you think you've got a good patch for an herb or veggie garden – be it on your balcony, in your backyard or that strip of concrete that runs down the side of your house – the first thing you should do is watch it and observe where the sun falls. Then consider what you want to grow. If you want to grow herbs, the sun is not such a big deal. But if you want to grow tomatoes, you'll need a sunnier spot.
2. All you need is a windowsill
Even if space is tight, you can still have your own herb garden. All you need is a windowsill with a bit of light. A general rule of thumb: the larger the leaf, the less light it needs.
3. If the soil is good, it will grow
If the soil in your pots is good, it will do most of the work for you. Ask the staff at your local nursery for advice and get some good quality organic compost, mix it with a blood and bone meal fertilizer and top it with mulch. The mulch will help the soil in your pot retain nutrients by trapping moisture.
4. Don't know where to start?
Try growing herbs! You don't even necessarily need to buy a packet of seeds or seedlings from a nursery – just use offcuts from your cooking. For example, take a stem of basil from the bunch, remove the leaves from the bottom half, then stick the stem into a glass of water by the window. Within a week or so it will throw out roots ready for planting.
A simple herb to start growing from seeds is parsley, and it's one of the most nutrient-dense herbs you can eat. Try juicing it or add it to pasta or salad.
5. Ready to upgrade from herbs?
Growing your own scallions (or spring onions) is just as simple as basil. Rather than throwing away the root system (the white end), cut them off and stick them in some water. Once the roots have grown longer, plant them in soil. New shoots will be sprouting up from the center in no time.
When you're ready to harvest, rather than pulling the scallion out at the root, just cut at the base and they'll regrow.
6. Graduate to veggies
Summer is a great time to have a go at growing tomatoes, eggplant or carrots. You'll need a deeper pot, as these plants have a bigger root system than herbs. They also require more sun.
7. Try a trellis
If you have no room for plants to spread out, growing vertically could be the answer. Vegetables that are natural climbers and grow well on a trellis include tomatoes, beans, peas, cucumbers and squash. Fence posts and balcony railings are a handy ready-made trellis, or buy lattice from your local nursery or hardware store.
8. Be more fruitful
Does someone you know have a lemon or fig tree? Ask for a cutting to start you off. I prefer to grow trees into the soil, but if you don't have that option, get a big pot. Other fruit trees that grow well from cuttings include olives, pomegranate, mulberry, grapes, blueberry, blackberry and raspberry.
All you need to do is score the bottom of the cutting with a sharp knife or pruning shears, which helps the plant open up so it can throw out roots. Stick it into a nutrient-heavy soil mix and I guarantee it will throw out some leaves… and fruit!
Palisa Anderson
RECIPES
Palisa Anderson grew up in the kitchens of Sydney's Thai institution Chat Thai, and has expanded the family business to include Boon Café, Jarern Chai Asian Grocers, and the hawker-style Samosorn. These eateries are stocked with produce from her organic Boon Luck Farm in Byron Bay. Palisa is also host of Water Heart Food on SBS. Now she's sharing her Thai favorites with you.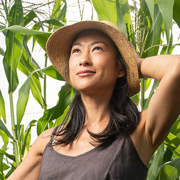 Sign up to unlock your full potential
All your tools in one place
Expert-training to fuel your fitness, nutrition and mindfulness.
Limitless ways to fuel your mind & body
Access to over 3,000 workouts, recipes, and meditations – all tailored to your goals.
Tech that keeps you moving
Download Centr on all your devices to level up and track your results live.