Sergio Perera
Avengers eat game: A day on Chris Hemsworth's plate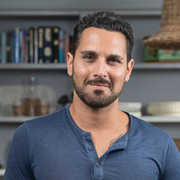 We all know how hard Chris works out when he's preparing to play Thor, but his meal plan is equally as important.
As with everything we do on Centr, balance is key.
In the lead up to a movie shoot, we focus on maintaining a balance of protein, carbs and fat, while fueling him to build muscle with an increased calorie intake from whole, fresh and nutrient-rich foods.
You can train with Chris's team on Centr, now we invite you to eat like Chris – with Centr recipes from myself and the team, inspired by a day on his plate during the filming of the back-to-back Avengers: Infinity War and Avengers: Endgame blockbusters.
Pre-workout snack:
Sergio Perera
RECIPES • MEDITATION
Sergio Perera has worked in the world's finest kitchens, including Spain's celebrated elBulli, and as on-set chef and nutrition consultant to Chris Hemsworth. While he explores new frontiers in gastronomy and sustainability through his research lab Arrel, he's also helping you fuel up with simple recipes and amazing flavors, then switch off with much-loved meditations.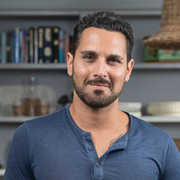 Start your Centr journey with a 7-day free trial
Get Chris Hemsworth's team of the world's best trainers, chefs and well-being experts in your corner.