Bobby Holland Hanton
Being Chris Hemsworth: How stuntman Bobby Holland Hanton keeps up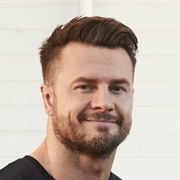 Chris Pine, Chris Evans and Chris Hemsworth might share the same name, but it's not the only thing they have in common.
Despite their very different body shapes, Bobby Holland Hanton has been a stunt double for all three – Hemsworth most famously and most regularly – and that means sculpting his body to match.
It's a feat Bobby achieves with the help of Hemsworth's expert fitness team – world-class trainers, chefs, nutritionists and wellness coaches that he recently made available to everyone globally through his fitness program, Centr.
Even if you're not trying to turn your body into an exact replica of Chris Hemsworth's like Bobby is, you might want to gain muscle and strength, shred, lose weight, improve functional movement, or simply give your eating habits a makeover. Maybe all of the above.
Whatever you want to achieve, Bobby and his team of fellow experts are waiting to help you do it with workouts, recipes and meditations. Here's how Bobby does it.
So you get the call telling you that Avengers: Infinity War and Avengers: Endgame are about to shoot back-to-back. What happens then for Chris Hemsworth's stunt double?
Bobby: Getting into classic Thor shape means training twice a day, six times a week, and eating around the clock, including two protein shakes. It's really not easy trying to get into the same shape as Hemsworth!
How long does it take to go from everyday Bobby shape to classic Thor shape?
Bobby: Well, it can take me around five to eight weeks, depending on what shape I was in to start with. I may have been doubling for another actor who is smaller than Chris, so it really depends. But that is about my time frame.
How much muscle do you gain for Thor?
Bobby: I sit naturally at around 185 to 187 pounds (84 to 85 kg), and go up to around 200 to 202 pounds (91 to 92 kg) in Thor mode, so I'm a fair bit heavier when we do these movies.
And what about the mental preparation?
Bobby: Haha, good question. Firstly, I love my job and love working with my close friend Hemsworth. I am very fortunate to be in this position so it's a lot of fun. But I have to be focused and dedicated to the diet and the training, as well as the rehearsing and shooting of my stunts, so that's the real mental challenge.
Tell us about an average day when you're in Thor prep mode.
Bobby: Rehearsals usually start at 7.30am, so up around 5.30am-6am. When we shoot it could be a lot earlier – sometimes I'm in the hair and make-up chair at 5am.
Breakfast is eggs, avocado, steak. Lunch is typically fresh fish with vegetables and quinoa, something along those lines. Dinner might be grilled chicken with roasted vegetables and brown rice.These are the kinds of recipes we have on Centr meal plans – plenty of fresh, clean foods with interesting flavors so you don't get bored. For snacks in between, it might be some boiled eggs, nuts and protein shakes.
I'll do bodyweight training for around 30 to 40 minutes if it's Thor training and general training for 20 to 30 minutes.
And I always aim for seven to eight hours of sleep if I can.
When you're training for Thor, are there particular body parts or abilities you're working on?
Bobby: Just like my Centr workouts, there will be HIIT sessions and circuits, and then I'll isolate a lot of arms because they are always on show in the Thor costume.
Do you get much advance notice of the stunts you have to do?
Bobby: Yes. We often start work two to three months before shooting starts so we have time to break down the action in the script and rehearse each stunt safely and tweak things accordingly.
Given that you have to do things that Chris doesn't do in the movies, does your training differ much from his?
Bobby: No, our training is very similar. I generally call upon my gymnastic background when it comes to my physical stunts, though gym training doesn't really prepare you for stunt work per se.
Does training get competitive between you two?
Bobby: No, not at all – he is the God of Thunder! We purely motivate each other. It's great training with him, but he is a beast so it's not easy.
What is the toughest part of training for a role like this?
Bobby: The hours. The schedule is jam-packed, so maintaining a strong frame of mind, staying injury free and as fit as possible, plus potentially being away from the family for long periods of time can be really tough. But the end goal is to make a special movie that will be remembered forever.
How do you keep your preparation on track? Do you have days where you're unmotivated?
Bobby: Some days are difficult and testing, but you just have to push through and keep going. And believe in yourself. You always feel better after you push through and get the training done. It's something the team and I always remind the people we train through Centr. That post-workout feeling and self-belief, there's nothing like it. It's what keeps us all motivated and leads to our members getting the results they're after.
What makes your trainers and team – the Centr experts – the best people for the job of getting you movie ready?
Bobby: They are the best in the business. The knowledge is first class, the motivation they bring and the fun we have just makes this whole team work so well together.
Wanna join that team? You don't have to be a Hollywood stuntman to have that world-class knowledge at your fingertips. Chris Hemsworth's team can guide you to Train, Eat and Live Centr.
Start your 7-day free trial at Centr.com today.
Bobby Holland Hanton
PLYOMETRICS • MUSCLE-BUILDING • MEDITATION
Bobby Holland Hanton is one of Hollywood's leading stuntmen, regularly doubling for Chris Hemsworth and making heroes from James Bond to Batman look good. A former gymnast for Great Britain and semi-pro footballer, Bobby is an expert in explosive movement and renowned for his incredible body transformations. His strength and plyo workouts will inspire you to aim higher.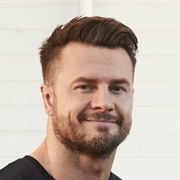 Sign up to unlock your full potential
All your tools in one place
Expert-training to fuel your fitness, nutrition and mindfulness.
Limitless ways to fuel your mind & body
Access to over 3,000 workouts, recipes, and meditations – all tailored to your goals.
Tech that keeps you moving
Download Centr on all your devices to level up and track your results live.