Sergio Perera
Eat like a superhero: Sergio's meal plan for Chris Hemsworth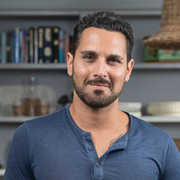 When you're training to build Thor-worthy muscles, you need to eat well. That's where I come in. Over the past seven years, I've worked with Chris Hemsworth to match his meal plan to the physical demands on his body when he's preparing for a movie. Now, as a Centr expert, I'm lucky enough to provide you with recipes and advice that work for your goals, too.
Even when Chris is in hardcore prep mode, we both believe it's important to maintain variety in meals so you can get the results you're after (which is muscle-building for Chris when he's playing Thor, obviously) without sacrificing your health, performance or tastebuds.
And that's one thing so many people don't realize: there are so many more tasty options for eating 'clean' than the cliched steamed chicken! After years of experimenting and refining, here are the guidelines we set for Chris in the lead-up to the epic back-to-back shoot of Avengers: Infinity War and Avengers: Endgame.
So much snacking
When Chris is bulking up – his muscles, not his belly! – he has to eat a lot. That's where the snacks come in. If you're training to build muscle with Centr, you know the importance our team places on snacking!
We keep Chris to wholefoods where possible, such as nuts, eggs and tuna. (Centr's Tofu & Bean Cups and Tuna & Bean Power Bowl recipes make great wholefood snacks.)
Making a meal of it
While he'll eat a bit more red meat than usual when building muscle, we limit it to daylight hours, as red meat requires more energy to digest. The same goes for grains. (Steamed rice is Chris's favorite.) Chris will, however, enjoy a lamb chop at night if training runs late.
Kick it in the kitchen like Chris and Sergio.
Every morning, like clockwork
Chris starts every day with a large green smoothie, made up of different types of leafy greens, low-glycemic fruits, nuts, seeds, fats and small amounts of sea salt to aid in electrolyte balance, nerve transmission and glucose metabolism. For protein, we prefer a mix of rice, hemp and pea protein which works well for Chris.
And what about supplements?
We only use supplements where needed, to help Chris get extra calories and the quick nutrition they offer. Before going to sleep, he will have a serving of BCAA's (branched-chain amino acids, which help with energy metabolism and retaining muscle), along with a magnesium/zinc supplement which aids muscle recovery, calms the body and lowers the accumulation of lactic acid in recovery.
Now that you know why he eats the way he does, let's rip a page out of the Avengers' shoot diary to show you what three days on Chris's plate looks like.
Day 1
8am – Green power shake with protein
10am – Bowl of yogurt with mixed fresh berries, chia seeds, almonds and honey
12pm – Workout
1pm – Post-workout shake consisting of vegetable protein, ice water, BCAAs and 1g of vitamin C
2:30pm – 8 oz grilled chicken with crispy sweet potatoes and a rocket salad with seeds, nuts and salted apple. Lemon and olive oil dressing on the side
5:30pm – 2 rice cakes with Vegemite, tuna and cherry tomatoes
7pm – 8 oz white fish with grilled mushrooms and a raw broccoli salad
9pm – Half of a small paw paw/papaya with yogurt and berries. Magnesium/zinc supplement
Day 2
8am – Green power shake with protein
10am – 3 fried eggs on a slice of wholegrain toast with Vegemite and avocado
12pm – Workout
1pm – Post-workout shake consisting of vegetable protein, ice water, BCAAs and 1g of vitamin C
2:30pm – 8 oz eye fillet (fillet mignon), grilled pumpkin salad with spinach, herbs, cucumber and ½ cup of steamed rice
5:30pm – Chicken and vegetable soup with barley
7pm – 8 oz white fish, leafy green salad with radicchio and balsamic dressing. A side of roasted mixed cruciferous vegetables
9pm – BCAAs with Magnesium/zinc supplement
Day 3
8am – Raw cacao and frozen berry shake with coconut oil, chia seeds, dates and vegetable protein
10am – Savory porridge with olive oil, parmesan and two poached eggs
12pm – Workout
1pm – Post-workout shake
2pm – Sesame chicken salad with leafy greens, sprouts, pickles and ½ cup steamed rice
5pm – A homemade frozen green bar
7pm – 8 oz grilled mahi mahi, grilled asparagus, roasted tomato and a non-dairy Caesar salad
9pm – BCAAs with magnesium/zinc supplement
Sergio Perera
RECIPES • MEDITATION
Sergio Perera has worked in the world's finest kitchens, including Spain's celebrated elBulli, and as on-set chef and nutrition consultant to Chris Hemsworth. While he explores new frontiers in gastronomy and sustainability through his research lab Arrel, he's also helping you fuel up with simple recipes and amazing flavors, then switch off with much-loved meditations.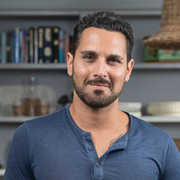 Sign up to unlock your full potential
All your tools in one place
Expert-training to fuel your fitness, nutrition and mindfulness.
Limitless ways to fuel your mind & body
Access to over 3,000 workouts, recipes, and meditations – all tailored to your goals.
Tech that keeps you moving
Download Centr on all your devices to level up and track your results live.