Tahl Rinsky
6 reasons Vinyasa is the all-around best yoga style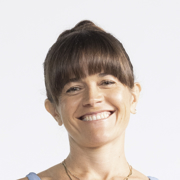 First up: there is no 'yoga' yoga. There are many different styles. All styles of yoga practiced in the west today are variations of Ashtanga, Iengayer, Hatha and our favorite – Vinyasa. Traditionally, yoga is not itself a religion but an ancient system for guiding people towards spiritual freedom. Most people today practice yoga to keep their body strong and flexible, to prepare for meditation and to calm the mind.
Centr expert Tahl Rinsky leads our Vinyasa practices. Also known as 'flow yoga,' 'dynamic yoga' or 'Vinyasa flow,' this style developed from traditional ashtanga yoga – as did Tahl's love for yoga.
"My passion for yoga started with my mother," Tahl says. "She used to practice ashtanga yoga in the living room." Now, Tahl wants to inspire people to explore the benefits of Vinyasa.
"Go with an open mind, a willingness to be surprised and be clear what you're aiming for – strength, flexibility, peace of mind," she says.
Need more convincing? Here are six great reasons Vinyasa is the best all-around yoga style for you to try.
1. Grace, breath and flow
The asanas (yoga poses) in Vinyasa are very fluid, unlike the more static yoga styles such as Ayengar. The name itself is a Sanskrit phrase, roughly translated as "to place in a purposeful way," meaning the sequence of movements placed together for a seamless flow. The movements are coordinated with breath, bringing your entire body and mind in sync. Vinyasa yoga is uniquely dynamic, and that's one reason practitioners like Tahl find it to be a special experience. "I love the fluidity of it," says Tahl. "I love the change. It's kind of like a dance. I like the combination of breath and I like that it changes, and you can play with different shapes, it's not a set sequence."
2. Not just stretching, but sweating
Think yoga is all stretching and gentle breaths? Think again. Unlike Bikram or 'hot yoga,' the sweat you work up from Vinyasa is down to cardio, not extended periods in a heated-up room. Vinyasa actually engages your body like a standard cardio workout – especially if it's one of Tahl's workouts.
"The Vinyasa yoga I teach has a dynamic focus," she says. "It's quite strong and I can incorporate a lot of my fitness workouts within what I do in yoga practice."
3. Always something different
You should know that no two Vinyasa classes are alike. The creative freedom Vinyasa instructors have means each class is unique, so even if you've tried it with one instructor, another might offer something completely different. Being free to incorporate her own elements into Vinyasa practice means that this is an inspiring and engaging experience for Tahl.
"If I'm looking from a teaching perspective, it's creative, 'cause it's like putting a little dance together or putting a sequence together," Tahl says. "And I do love to dance, and in my own practice I'll incorporate music."
4. Body benefits
Unlike more slow-paced and seated styles, such as yin and restorative yoga, the dynamic movements of Vinyasa have additional physical benefits as a workout. Tahl's Centr workouts target specific areas for toning and strengthening, such as core and hips, as well as others for developing lean muscle definition. Not to mention improving flexibility and burning calories.
5. Mind benefits
Even though it's a physically dynamic form of yoga, Vinyasa engages your mind as well. For Tahl, it offers a unique way of approaching and understanding the body.
"Through investigating their body, whether it's strength, whether it's flexibility, whether it's yoga, [people will] actually come to some sort of understanding of their breath and an understanding of slowing down life. And sometimes slowing down life comes from moving fast. It's not always slowing down the movements."
Yoga sequences can obviously relieve physical stress, but studies suggest yoga can also decrease psychological stress, help people manage anxiety and even improve sleep quality.
6. Lets you be flexible, in more ways than one
Vinyasa yoga is easy to fit into most lifestyles. That's not just because of the time-efficiency – many of Tahl's sessions are between 20-30 minutes – but also because of the flexibility of the practice itself. This is one of the reasons Tahl was drawn to this style when she was balancing yoga and the demands of a young family.
"When I started yoga it was Ashtanga yoga, which is much more of a rigid sequence and requires you to show up every day for a certain period of time. That was very hard to follow with a family," she says. "So that stopped working and I found Vinyasa and I fell in love with it."
Tahl Rinsky
YOGA • MEDITATION
For classic yoga with a modern twist, Elsa Pataky turns to one woman: Tahl Rinsky. Born in New York and raised in Israel, Tahl is a Yoga Alliance ERYT200 and RYT500 certified instructor, and co-owner of Creature Yoga in Byron Bay. Her dynamic Vinyasa style of yoga balances flexibility and sweat, flow and strength, focus and stillness to better connect body, breath and mind.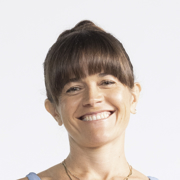 Sign up to unlock your full potential
All your tools in one place
Expert-training to fuel your fitness, nutrition and mindfulness.
Limitless ways to fuel your mind & body
Access to over 3,000 workouts, recipes, and meditations – all tailored to your goals.
Tech that keeps you moving
Download Centr on all your devices to level up and track your results live.