Bobby Holland Hanton
5 secrets to success from Bobby, the stuntman behind Chris Hemsworth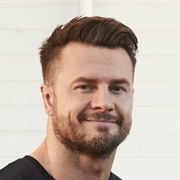 In Men in Black™: International, all the focus is on Chris Hemsworth as the alien-fighting, world-saving, suited-up Agent H. But look a little closer at those action scenes and you'll see the man behind the Man in Black – professional stuntman Bobby Holland Hanton.
Stuntpeople make a living by being invisible. They're the behind-the-scenes secret to action-packed movie scenes. You might even say they're the real Hollywood secret agents!
Because Bobby is one of our Centr experts, we're bringing him into the spotlight and revealing his five secrets to success, in fitness and life.
1. Be a champion in the gym, no matter what you're wearing
Bobby has a past – a secret alter-ego, if you will – as a champion gymnast. This means his training fashion has been... a little different at times.
"Worst thing I've ever worn to the gym was a leotard back in my gymnastics days," he says.
Very few of us can rock up to the gym looking Instagram-perfect in our workout gear – not to mention what it looks like after 20 minutes gunning it on the treadmill. If you find yourself holding back from public exercise because of activewear anxiety, just remember there's no shame in sweating it out in sweats and an old T-shirt. Plus, the exercise will make you feel great no matter what you're wearing."You have to keep telling yourself that once the training session is over it's so worth it," Bobby says. "You will feel so much better about yourself."
Take a page out of Bobby's book: it's what's happening on the inside that counts. We're talking about your fitness AND your confidence.
2. Have a theme song
The one thing that never fails to get Bobby ready to work out like a champ?
"All the Rocky movie theme tunes," he says. "Rocky Balboa was my idol growing up."
If you're struggling to get excited about starting your workouts, try picking a theme song. One pump-up anthem that makes you feel like a star, like you can take on anything. Hype yourself up and you'll not only have the energy to get started, but you'll be blasting through your whole routine in no time. Need some inspiration? Check out our Centr playlists to find your perfect track.
3. Don't cheat yourself, treat yourself
No one likes a cheat. That's why at Centr, we've flipped the idea of 'cheat meals' to 'treat meals' instead. Enjoying the occasional chocolate or slice of pizza shouldn't come with shame. Follow Bobby's lead and make treating yourself a special and mindful occasion. When it comes to food, he enjoys the finer things in life.
"I go out for really nice dinners," Bobby says. "Nobu is one of my favourites. Or I have a nice glass of a really good red wine!"We're all about a way of life that's less 'guilt' and more 'gourmet.'
4. Embrace your emotions
His identity may be hidden by on-screen movie magic, but Bobby doesn't hide his heart away.
"I love romantic movies such as The Notebook and P.S. I Love You," he admits. It's more than just his movie choices that are heartwarming – the 'bromance' of Bobby and fellow Centr expert Luke Zocchi is legendary.
We can all be inspired by Bobby's 'aww' factor example to be generous and honest in our emotions, with ourselves and others. Mental and emotional well-being are just as important as physical. It can be especially critical for men to be aware of and share their feelings for the benefit of their mental health.
5. Take time to rest and recover
No one loves a workout more than we do, but we also know that having rest days is vital for maintaining health and not burning out. In order to transform into Chris Hemsworth, Bobby has to train twice a day, six times a week. But even though he works super hard, he still takes time to pull back from training and let his body recover. His go-to for a wind-down evening?
"Feet up by a nice warm fire, watching a game of football," he says.Even when he isn't on his day off, he still finds ways to sneak some relaxation in.
"I'm a massive advocate of rest," he says. "What we found works quite well is trying to have a nap during the day. Sometimes at lunch, maybe just 20 minutes, but it really does help."
It's important to give yourself relaxation time in between training. Between you and us, we're on board with a cozy bit of 'Hygge by Holland Hanton.'
Bobby Holland Hanton
PLYOMETRICS • MUSCLE-BUILDING • MEDITATION
Bobby Holland Hanton is one of Hollywood's leading stuntmen, regularly doubling for Chris Hemsworth and making heroes from James Bond to Batman look good. A former gymnast for Great Britain and semi-pro footballer, Bobby is an expert in explosive movement and renowned for his incredible body transformations. His strength and plyo workouts will inspire you to aim higher.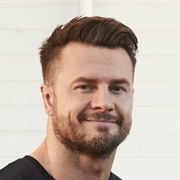 Sign up to unlock your full potential
All your tools in one place
Expert-training to fuel your fitness, nutrition and mindfulness.
Limitless ways to fuel your mind & body
Access to over 3,000 workouts, recipes, and meditations – all tailored to your goals.
Tech that keeps you moving
Download Centr on all your devices to level up and track your results live.