Darren Robertson
3 ways to spend less on food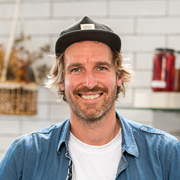 Fresh produce is the absolute core of a whole foods diet. You can't keep up good health without fruit and veg, and the freshest ingredients taste the best. But if you're worried about the price tag of making a whole-foods switch, you'll be glad to hear there are a few creative ways of stocking up the fridge and fruit bowl that can save your wallet. I'm a huge fan of getting food in a way that's sustainable for both the planet and your food budget.
If you're curious about money-saving hacks for getting more variety and freshness into your diet, here are three ways you can get your hands on some healthy produce without spending a dime.
1. Join a community garden or farm
You don't need your own farm to get hold of fruit, veg, and herbs that are fresh from the earth. Many cities, towns, and suburbs have community gardens or 'city farms' where people can plant and pick produce. In some places, you might even have little boxed 'mini gardens' of herbs on public property for common use. It's also a great way to gain some appreciation for where food comes from and how it looks and tastes naturally. Check out your local area to see where the nearest shared farm or garden is, roll up your sleeves and get your hands dirty.
2. Foraging
Foraging is a bit of a chef's secret, and I've been doing it for around 20 years now. If you've ever gone apple or berry picking for fun, you're already on your way to full-on foraging. In addition to the fresh food you can find, foraging gives you a real awareness of the seasons because it's forever changing. It's incredibly rewarding to see what's around and use some of that in your cooking.
The first step: get familiar with your local wilderness or green spaces before you start collecting.


For example, when I worked in the UK we would go out between shifts and collect plants like sorrel, nettles, and dandelion to add to staff meals. Here in Byron Bay, I find some really different plants: beach rocket, which is a semi-succulent that has a wasabi note, or some kelp we can pickle or shred into salads. I try to use as much foraged food as possible – you can't get more local than that. Folks in the US might go hunting for blackberries, blueberries, or learn to spot wild garlic.
There are lots of great forager's handbooks and courses to start with. The plants will vary from place to place, so it's worthwhile to see what's specific to your local area. If you're a beginner, steer clear of things like mushrooms or unfamiliar berries. Remember to be a respectful forager: never take more than you need.
Remember to proceed with caution when eating foraged food. Some wild mushrooms or plants can be poisonous. Never eat anything you are unfamiliar with or unsure about!
3. Try out swap markets
Maybe you just have one fruit tree, a few tomato vines or a window box of herbs. You can't just eat the same fruit and veg over and over every day, but you also don't want to let good food go to waste. You want (and need) some variety, so when you have a surplus, why not find someone else to trade with? When life gives you too many lemons, swap them with someone who has too many eggs. Or trade a bunch of parsley for some mint, so you can make my Charred Broccoli Salad with Pancetta, Mint & Almonds.
At the end of the day, healthy eating is worth the effort – for your overall health and your fitness goals. Put these tips into practice and you'll see the cost of your weekly shop decrease in no time.
Darren Robertson
RECIPES
Farm-to-table proponent Darren Robertson is one of the most recognisable chefs in a country obsessed with food. An expat Brit trained in Michelin-starred restaurants, he'll help you make cafe-worthy meals at home. Darren is co-owner of stalwart Byron Bay restaurant Three Blue Ducks, Rocker in Bondi, and crossed Australia to discover new tastes in the Three Blue Ducks TV series.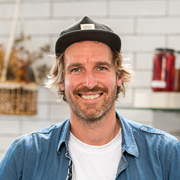 Sign up to unlock your full potential
All your tools in one place
Expert-training to fuel your fitness, nutrition and mindfulness.
Limitless ways to fuel your mind & body
Access to over 3,000 workouts, recipes, and meditations – all tailored to your goals.
Tech that keeps you moving
Download Centr on all your devices to level up and track your results live.