Ashley Joi
Get fired up with a free Ashley Joi workout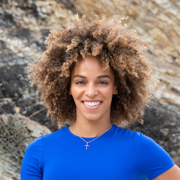 Thought about joining a gym but bolted before you got to the front desk? Tried boot camp, but couldn't stick with it?
Don't give up. All you need is the right trainer. All you need is Ashley Joi.
To help you discover what the newest addition to Chris Hemsworth's team of experts at Centr is all about, Ashley put together this free 12-minute workout that can be done anywhere, any time, with no equipment required.
Ashley's workouts are geared towards women on all weight loss, toning and strength fitness journeys, as well as men looking to burn fat with a cardio and resistance boost.
Beginners, never fear: simple moves and encouragement make it a breeze to get the hang of Ashley's training. If you're more advanced, she'll push you further with extra rounds and her No.1 rule: "Do not stop!"
Ready to discover all Ashley has to offer? Just press play!
Try Ashley Joi's free full-body blaster
This bodyweight session will fire up your glutes, legs, and core and get your whole body working hard. Ashley's going to push you, but take it at your own pace.
Time: 12 mins
Equipment: No equipment required
Do each exercise for 40 seconds, then rest for 20 seconds.
Balance skater – Push into the cardio zone while improving balance and working your entire lower body.

Reverse lunge with knee drive – Add a hop to really keep your heart pumping.

Push-up with alternating touch toes – Level-up your push-up then zero in on your core as you tap the toes.

Pulse squat with abduction – Work your abductors and tighten and tone your butt. Simple.
Start your fitness journey with Ashley Joi. Ashley's workouts will be in session when she joins the Centr team on November 4. Ashley will get you on track and chasing down your goals before you know it.
Ashley Joi
HIIT • STRENGTH
Whether you're new to fitness or need a fresh start, ISSA certified personal trainer Ashley Joi will help you discover that spark. A lifelong athlete (she attended University of Rhode Island on a track and field scholarship) who has led training events for Nike, Ashley's passion for physical and mental fitness is infectious. Just remember her No.1 rule: Don't stop!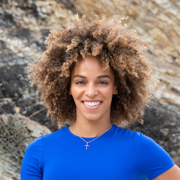 Sign up to unlock your full potential
All your tools in one place
Expert-training to fuel your fitness, nutrition and mindfulness.
Limitless ways to fuel your mind & body
Access to over 3,000 workouts, recipes, and meditations – all tailored to your goals.
Tech that keeps you moving
Download Centr on all your devices to level up and track your results live.