Ashley Joi
Ashley Joi is here to help you love your workouts again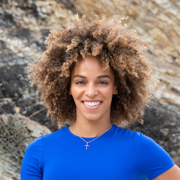 If you need to inject some fun into your workouts, Ashley Joi is ready to show you the way.
Making big, joyful waves in LA and sharing inspiration all over Instagram, Ashley Joi is a Californian trainer on a mission to motivate. She took a lifelong love of running and athletics and turned it into a career, leading bootcamps and fitness events while training Hollywood celebs and average Joes alike. Ashley believes it's never too late for anyone to start living healthier and loving fitness.
"I knew I wanted to stay healthy and active, and I knew I wanted to help other people feel what joy that can bring into your life," she says.
When Centr founder Chris Hemsworth began following Ashley on Instagram, a friend told her it was a sign. Sure enough, Ashley's boundless energy and passion for pushing people to reach their full fitness potential has made her a perfect addition to the Centr team.
"I am blessed to be a part of Centr," she says. "I love how Centr personalizes the program, because there's no one way to be fit, no one way to be healthy. I encourage people to do what brings them happiness."
Spark that fitness fire with Ashley's full-body workouts.
Ashley Joi has the power-moves you need
Ashley brings her professional cardio and strength expertise to the program with workouts inspired by the popular HIIT Tabata training style: high-intensity bursts of 40 seconds on, 20 seconds off. She'll talk you through the moves and show you the form, making it easy to keep up even if you're coming straight off the sofa.
And you don't need a gym membership. For maximum convenience, all of Ashley's workouts can be done at home with just dumbbells and a kettlebell. Plus, they're suitable for all levels, from beginner to advanced.
"I love empowering women to do cardio, it's such an amazing feeling," she says. "And strength shouldn't be intimidating for women – you'll get strong and you'll be awesome."
Ashley has one rule: Do Not Stop
Because they're designed to help you lose weight, increase strength and build up your cardiovascular fitness (so you're not huffing and puffing after one flight of stairs), Ashley's workouts need to be a little tough.
Even Luke works up a sweat with these moves.
"Just because I'm joyful and nice, don't expect me to be a pushover," she says. "You're going to want to give up, but I'm here to hold you and say, 'You've got this, keep going.'"
If you're new to exercise or returning after a lull, you may feel pressure to be training at Chris Hemsworth's level from the get-go. But Ashley's advice is to give yourself time and find the fun in fitness.
"People often focus on what they can't do, but I want you to focus on what you CAN do, then I'll help you get better from there," she says. "Let's spark that fire. Having confidence in what you are doing will stimulate more growth and eventually you will be willing to step out of your comfort zone."
It's time to love your workouts again.

Ashley Joi
HIIT • STRENGTH
Whether you're new to fitness or need a fresh start, ISSA certified personal trainer Ashley Joi will help you discover that spark. A lifelong athlete (she attended University of Rhode Island on a track and field scholarship) who has led training events for Nike, Ashley's passion for physical and mental fitness is infectious. Just remember her No.1 rule: Don't stop!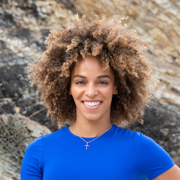 Sign up to unlock your full potential
All your tools in one place
Expert-training to fuel your fitness, nutrition and mindfulness.
Limitless ways to fuel your mind & body
Access to over 3,000 workouts, recipes, and meditations – all tailored to your goals.
Tech that keeps you moving
Download Centr on all your devices to level up and track your results live.