Ashley Joi
The up-close-and-personal chat with Ashley Joi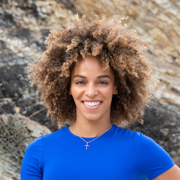 By now, you've met Ashley Joi, a cardio and strength training expert and the latest addition to the team on Chris Hemsworth's health and fitness program, Centr.
We've given you the lowdown.
You've sampled her workouts.
But you're still curious about this fresh new face, so we sat down for a little Q&A with the woman on a mission to get you fit, strong, and loving exercise again.
Quick questions first: three words to describe yourself?
Resilient, strong, passionate.
Your food philosophy?
My philosophy is to have a healthy relationship with food. I am not really big on diets and restrictions. Just be okay with it and don't be so hard on yourself.
Favorite post-workout snack?
I really love breakfast after a workout! I'm a big breakfast fan.
Tips to stay active when traveling?
The Centr app is perfect because it lets you work out anywhere (with trainers like me!), even if you have no gym. A run is also great for when you're out on the road – you get to see a city you might not have been in before.
What's your favorite home workout (apart from the ones on Centr, naturally)?
My favorite exercise is a core workout – I watch TV and train!
Actually, I'm used to training people in their homes as well as the gym. My mentor always says go to your client, rather than letting them come to you. They'll always have an excuse if you make them come to you, but if you show up at their door they have no excuse. With Centr, I'm showing up at your door, so no excuses!
We've heard your workouts are tough...
With beginners, it's important to meet people at the level where they are in life, not to try and completely change them overnight.
But I believe in tough workouts. Just because I'm joyful and nice don't expect me to be a pushover – no no no! You're going to want to give up, but I'm there to hold you and say, 'You've got this'.
I know how it feels doing burpees for 60 seconds, I know that feeling when fatigue kicks in, I've been there, so I can push you to keep going.
You're joining Chris Hemsworth's team. Is your nickname a bit of a funny coincidence?
Baby Hulk? Haha! That comes from me being very strong and very small, it's something my friends nicknamed me.
I'm a petite woman and often people get taken aback, like, 'Wow you're actually small!' I'm small, but I'm mighty. Strength shouldn't be intimidating for women – it won't turn you into a grizzly bear, you'll just get strong and you'll be awesome.
Any tips for a winning workout playlist?
When I run marathons, I ask my friends, family, and colleagues to send me songs. That way each song is a special cheer personally from them when I'm running. My playlist becomes very diverse from hip-hop, rock, 90's pop, even gospel! From doing this, I find motivation from songs I wouldn't usually identify as inspiring.
Songs I like to lift and work out to are songs I can sing or dance to: breaking out in dance after deadlifting is my specialty. Screaming the words to a Rhianna song while DB shoulder pressing is very common.
What's the best workout for fitness newbies?
Taking someone through a bodyweight exercise always allows a person to see what their body is capable of and that their own body is a great resource! The most important equipment for beginners is a positive mind and willingness to put in the work.
How have your psychology studies helped you as a trainer?
Being a trainer is not like being a therapist, but my passion is to get people to enjoy their life, so I'm a big believer in listening to them and working through it together.
I talk to clients about their why, about their past, how they are now, what their ultimate goal is. I encourage people to talk about what the best things are that they do outside of health and fitness. Do you make the best burritos? Can you parallel park? What is something you love about yourself?
People often focus on what they can't do when training, but I like to focus on what they can do and build from that.
The best piece of advice for someone starting a fitness journey?
I always tell people you can change your life, you just have to have the willpower to advocate for yourself. But also it's okay to fail on the way there: failure allows you to understand what you actually want to do and what is important. You're going to fail, you're going to fall, but you're going to get back up, and I'll be there to help.
Ready to rediscover that spark and get moving again? Training with Ashley Joi is now in session on Centr.
Ashley Joi
HIIT • STRENGTH
Whether you're new to fitness or need a fresh start, ISSA certified personal trainer Ashley Joi will help you discover that spark. A lifelong athlete (she attended University of Rhode Island on a track and field scholarship) who has led training events for Nike, Ashley's passion for physical and mental fitness is infectious. Just remember her No.1 rule: Don't stop!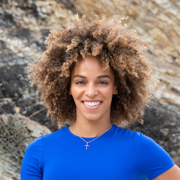 Sign up to unlock your full potential
All your tools in one place
Expert-training to fuel your fitness, nutrition and mindfulness.
Limitless ways to fuel your mind & body
Access to over 3,000 workouts, recipes, and meditations – all tailored to your goals.
Tech that keeps you moving
Download Centr on all your devices to level up and track your results live.