Sergio Perera
Chris Hemsworth's on-set chef has 6 tips for getting festive fit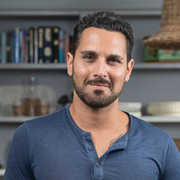 Are you primed for party season? The end-of-year office functions, family get-togethers and NYE are fast approaching, which means it's time to get your party clothes on and turn up that inner, festive glow.
No one knows how to prep for a big event better than Centr expert Sergio Perera. As Chris Hemsworth's go-to on-set chef, he has helped get Chris and Elsa Pataky looking and feeling great and performing at their best for movie roles and special events alike.
While your presence should be present enough, if you're looking to put a little more effort into this season's shindigs, follow Sergio's six essential tips for getting prepped to party on a deadline.
1. Drink a lot – just not alcohol
Sergio's number one tip: "Drop all alcohol."
We know it sounds harsh, but if it works for you then you might find cutting out booze to be a simple way to reduce unnecessary calories.
"Stay hydrated with infused waters and tea or coffee with no sweeteners or creamers," says Sergio. "But if you don't want to cut out alcohol altogether, you can have a single glass of red wine at night in the six weeks prior to your big event without undoing the rest of your hard work."
2. Consider your carbs, not just your outfit
You're not preparing to run a marathon, and you shouldn't dump carbohydrates altogether, but being thoughtful with your carb intake will help you rock your party outfit to the max.
Sergio has you sorted with the right kind of carbs: "Stick to complex grains such as rice, barley, quinoa, millet or buckwheat. These wholegrains are easier to measure, and satiate your hunger well," he says.
3. Keep the party foods for the party
Fried food, sugar-laden desserts… ditch them from your diet six weeks prior to your event and save room for the big day. You don't need to cut all the fun out of your food, but a bit of preparation and a few healthy switches will help get you into peak party condition.
"Making your own lunch, rather than buying it, will not only save you money for the holiday season, it ensures you have a good selection of healthy food," Sergio says. "If you're dining out, go for grilled proteins rather than other cooking methods (such as fried or battered). And switch a few heavy dinners for lots of clear broth soups loaded with vegetables and some protein."
4. Don't forget the finger food
If you're working out in the lead-up to an event, you may still need the extra energy and protein that snacking provides. But you can be strategic about which snacks you eat and when.
"If you have a sweet craving or need a pre-workout energy boost, reach for a piece of whole fresh fruit," Sergio says. "Raw veggies with nut butters or dips – such as my Kale & Brazil Nut Pesto Dip – will also keep you on track and satisfied between meals."
Sergio's Kale & Brazil Nut Dip fights hunger pangs and keeps your body fueled.
5. Fill up the tank
We can't have your stomach growling when you're gearing up to tell Gary from accounting your awesome vacation story or doing a last-minute shop for dance-floor-friendly shoes.
We know increasing fiber from vegetables, fruit, nuts and seeds can help keep you fuller so you don't over-eat, but Sergio has another trick for keeping hunger at bay while you get lean: "Good fats in moderation, such as flaxseed oil, olive oil and avocado oil can also make you feel fuller, so don't cut them out altogether."
6. Be the life of the party!
You've put in all this effort, so don't let a cold or some other illness cramp your party style.
"To bolster your immune system, keep up your vitamin C," says Sergio. "This is always an essential part of Chris's preparation. Include some strawberries, citrus, red peppers and cauliflower in your weekly fruit and vegetable intake."
You should also make sure you're eating enough foods high in key nutrients like zinc (poultry, dairy products, legumes), probiotics (Greek yogurt, sauerkraut) and iron (red meat, leafy greens, nuts and seeds).
Oh, and Sergio has one last vital tip for you: "Have fun!"
Sergio Perera
RECIPES • MEDITATION
Sergio Perera has worked in the world's finest kitchens, including Spain's celebrated elBulli, and as on-set chef and nutrition consultant to Chris Hemsworth. While he explores new frontiers in gastronomy and sustainability through his research lab Arrel, he's also helping you fuel up with simple recipes and amazing flavors, then switch off with much-loved meditations.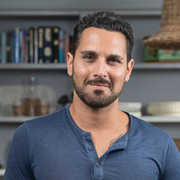 Sign up to unlock your full potential
All your tools in one place
Expert-training to fuel your fitness, nutrition and mindfulness.
Limitless ways to fuel your mind & body
Access to over 3,000 workouts, recipes, and meditations – all tailored to your goals.
Tech that keeps you moving
Download Centr on all your devices to level up and track your results live.