Dan Churchill
Triple Chocolate Cookies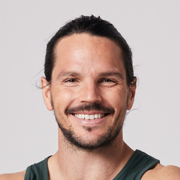 You can now enjoy Dan's Triple Chocolate Cookies three different ways! Keep it classic and bite into a cookie, indulge yourself by upgrading to Triple Chocolate Cookies with 1-ingredient Ice Cream, or go all the way with Dan's epic Cookies & Cream Parfait. Simply search the Snacks section to find these recipes.
1⁄8 cup (17g) plain flour (or gluten-free if required)
1⁄4 tbs cocoa powder (or cacao powder)
1⁄8 cup (10g) coconut oil melted
1⁄8 cup (9 1⁄3g) almond butter (or other nut butter)
1⁄8 cup (8ml) maple syrup (honey or rice malt syrup)
6 1⁄4g 70% dark chocolate (or dairy-free alternative) finely chopped
1⁄8 tbs cacao nibs optional
Preheat oven to 160°C/fan 140°C/gas and line a large baking tray with baking paper.
Combine chia seeds and water in a small bowl and set aside.
Meanwhile, in a large bowl, mix together flour, cocoa, bi-carb soda and half the salt. 
In a separate bowl whisk together coconut oil, almond butter, maple syrup, vanilla extract and soaked chia seed mixture until smooth. 
Pour wet ingredients into the flour mixture and stir until dough comes together. 
Add chocolate and cacao nibs and mix until evenly distributed in the dough. Rest dough for 10 minutes.
Roll heaped tablespoons of dough into 16 even-sized balls and transfer to prepared tray. Press down very slightly to flatten the tops and sprinkle over remaining salt. 
Bake cookies for 10 minutes. Cool on tray for 10 minutes before transferring to a wire rack to cool completely.
Once cool store cookies in an airtight container at room temperature for up to 7 days or freeze for up to 3 months.
Energy (kJ)
600 kJ / 143 cals
Sign up to unlock your full potential
All your tools in one place
Expert-training to fuel your fitness, nutrition and mindfulness.
Limitless ways to fuel your mind & body
Access to over 3,000 workouts, recipes, and meditations – all tailored to your goals.
Tech that keeps you moving
Download Centr on all your devices to level up and track your results live.