Dan Churchill
One-pan Mushroom Quinoa Biryani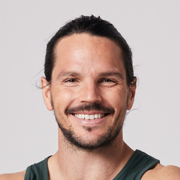 Dan's clever ingredient hack: chilling a full can of coconut milk allows the cream to solidify – making it easier to remove to create the sauce. Use the remaining coconut milk in the curry to add creaminess and delicious flavor.
200ml reduced-fat coconut milk (tinned) pre-chilled
1⁄4 cup (50g) dried split red lentils
1 tbs curry powder or more to taste
1 1⁄2 garlic cloves finely chopped or 3/4 tsp garlic powder
1⁄2 cup (125ml) vegetable stock
1⁄2 cup (90g) white quinoa (or other colour) rinsed
1⁄8 bunch of fresh coriander (80g bunch) leaves picked & stems finely chopped
1⁄2 tin of chickpeas (400g tin) drained & rinsed
1 cup (40g) baby spinach leaves
Place the tin of coconut milk in the freezer. This will make separating the cream from the milk easier.
Rinse lentils well, cover in water and set aside to soak. This will reduce cooking time.
Spray a non-stick frypan with oil and heat over medium heat, add onion and saute for 3-5 minutes or until slightly golden. 
Add mushrooms and cook for 5 minutes, turning once, until beginning to brown.
Stir through curry powder and garlic, cooking for a minute or two until fragrant.
Carefully remove coconut milk from the freezer without disturbing the contents and open the tin. Scoop the thick cream from the top and set aside. 
Add the remaining coconut milk along with the stock, quinoa and drained lentils to the pan and mix well. Bring to the boil and simmer for 15-20 minutes or until quinoa and lentils are cooked. You may need to add a little water if too thick or simmer a little longer if too thin.
At the same time, add sufficient boiling water (1-2 tbs) to the coconut cream to make a thick pouring sauce. Stir through chopped coriander stems and season with salt and pepper. Set aside.
Add chickpeas and spinach to the pan to heat through and the spinach is just beginning to wilt. Add lemon juice and adjust seasoning.
Divide biryani between bowls and top with coconut cream and coriander leaves to serve.
Energy (kJ)
1855 kJ / 443 cals
Sign up to unlock your full potential
All your tools in one place
Expert-training to fuel your fitness, nutrition and mindfulness.
Limitless ways to fuel your mind & body
Access to over 3,000 workouts, recipes, and meditations – all tailored to your goals.
Tech that keeps you moving
Download Centr on all your devices to level up and track your results live.