Dan Churchill
Triple Chocolate Cookies with 1-ingredient Ice Cream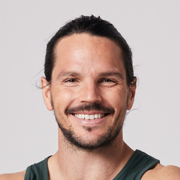 You've found Dan's all-time classic Triple Chocolate Cookies in the Snacks section. But you want more, right? Upgrade snack time by crumbling your cookies into this ingenious 1-ingredient ice cream. If you're feeling adventurous, you could try this ice cream trick with any of your favorite Centr cookies!
2 medium bananas ripe, cut in chunks & frozen
2 low-sugar choc chip cookies or use Dan's 'Triple Chocolate Cookies'
Place frozen bananas in a food processor and blend until very smooth. 
Place a scoop of banana 'ice cream' into bowls. Break a cookie in half or crumble into pieces and add to ice cream to serve.  
Energy (kJ)
985 kJ / 235 cals
Sign up to unlock your full potential
All your tools in one place
Expert-training to fuel your fitness, nutrition and mindfulness.
Limitless ways to fuel your mind & body
Access to over 3,000 workouts, recipes, and meditations – all tailored to your goals.
Tech that keeps you moving
Download Centr on all your devices to level up and track your results live.