Sergio Perera
The ultimate Strawberry Protein Ice Cream recipe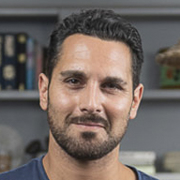 It's the easy high-protein ice cream recipe you've been waiting for.
1 medium banana sliced & frozen (make sure they are ripe and ready to eat but not brown)
2⁄3 cup (167ml) milk, reduced fat (or dairy-free alternative)
1⁄3 cup (40g) natural protein powder
1⁄8 cup (23 1⁄3g) frozen strawberries
33 1⁄3g fresh strawberries mashed
Blend all ingredients, except fresh strawberries, until smooth. 
Stir through mashed strawberries and pour ice cream into a 20cm loaf tin. 
Freeze for at least 2 hours. 
Energy (kJ)
835 kJ / 199 cals
It's the sweet treat that pulls double duty as an epic post-workout refuel – and our Strawberry Protein Ice Cream recipe is easier to make than you might think!
Created by Centr chef Sergio Perera, this high-protein ice cream recipe can be whipped up in just 10 minutes using a blender and only a handful of ingredients.
Keep a big batch on standby in the freezer, ready to hit your protein needs after a sweaty strength workout, or to satiate your cravings for an indulgent-tasting dessert after dinner. Craving a different flavor? You can flex this recipe with any other fresh or frozen fruits you have available.
Now, let's make some ice cream…
Why is this the best protein ice cream?
If we didn't have you at "ice cream", here are a few more reasons to add Sergio's Strawberry Protein Ice Cream into your healthy snack rotation.
It's easy: All you need is a handful of ingredients, plus a blender or food processor – no churning necessary. The hardest part will be restraining yourself while waiting for the ice cream to freeze!
It's delicious: As a post-workout snack that tastes like dessert, this ice cream is officially serving double duty. While the strawberries add sweetness, the ripe bananas help to create the smooth and creamy consistency you want from a good ice cream. Regularly crave something sweet after dinner? This ice cream will hit the spot.
It delivers a protein punch: It may taste indulgent, but this ice cream actually delivers big on the nutrition front – including a whopping 19g of protein per serve. That makes it perfect for refueling after a hot workout and to support your muscle gains. It's also balanced for macros and dietitian-approved.
It's flexible: Not in a strawberry kind of mood? Get creative and swap in your favorite fresh or frozen fruits for your next batch of homemade protein ice cream. Blueberries, raspberries, mango and peach would all work well.
FAQ: the answers to all your protein ice cream questions
Is protein ice cream healthy?
Homemade ice cream can be a lot healthier than the store-bought variety. Our Strawberry Protein Ice Cream recipe uses fresh ingredients, with none of the added preservatives that many commercial ice creams contain.
This recipe also includes no added sugar. Instead, it makes the most of the natural sweetness of strawberries and bananas.
Finally, this recipe is lower in fat than store-bought ice cream, using a combination of milk and frozen bananas to provide that creaminess we all love. You can even make it vegan by swapping in your choice of plant-based milk.
How much protein is in one serve?
Our Strawberry Protein Ice Cream contains a huge 19g of protein per serving – so adding this snack to your day is a great way to boost protein intake and lock in the gains from your training. Protein can also keep you feeling full and satisfied for longer, making this recipe a great choice for a sweet bite after dinner.
Your daily protein needs can range from 1g-2g per kilogram of body weight, depending on your goal.
Can I eat protein ice cream every day?
While our Strawberry Protein Ice Cream is a healthier choice than store-bought ice cream, we recommend mixing it up with other healthy Centr desserts to give your body a variety of nutrients. Check out some of our other high-protein snack recipes below.
How long will homemade protein ice cream keep?
This ice cream will keep for up to two months in your freezer.
What other high-protein snack recipes can I try?
There's no shortage of high-protein snacks on Centr to help you hit your daily nutrition needs. Here are a few of our favorites to get you started:

Sign up to unlock your full potential
All your tools in one place
Expert-training to fuel your fitness, nutrition and mindfulness.
Limitless ways to fuel your mind & body
Access to over 3,000 workouts, recipes, and meditations – all tailored to your goals.
Tech that keeps you moving
Download Centr on all your devices to level up and track your results live.