Sergio Perera
Chocolate & Peanut Granola Protein Bar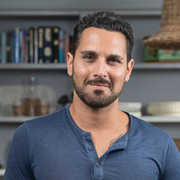 1⁄4 cup (22g) rolled oats (or brown rice flakes or quinoa flakes if gluten free)
1⁄8 cup (11 1⁄4g) vanilla protein powder (or natural protein powder)
1⁄8 cup (20g) pitted dates soaked in boiling water for 10 mins
1⁄8 cup (21 1⁄4g) crunchy natural peanut butter (or other nut butter)
1⁄8 cup (20g) 70% dark chocolate melts (or dairy-free alternative)
1⁄8 cup (3 3⁄4g) hazelnuts (peeled) chopped
Grease or spray a 20cm square cake tin with oil. 
Process oats, protein powder and salt together to form fine crumb. 
Drain dates, reserving some water for later. Add dates to processor and blend until well combined. 
Transfer dough to a bowl and mix peanut butter through by hand. Dough should be pliable enough to roll, like cookie dough. Depending on your protein powder you may need to add more oats if dough is too wet or some of the date water if too dry.
Add to cake tin, pressing mixture into the tin. Spread out evenly using a large spatula and place in freezer while you prepare the chocolate. 
Melt chocolate in microwave in 30 second intervals (or in a bowl over a saucepan with a small amount of simmering water, stirring) until just melted. It should be warm to the touch but not too hot or it won't set properly.
Spread melted chocolate over the protein bar base and scatter over the hazelnuts. Refrigerate until chocolate has set. 
Cut into 16 even bars. 

Store refrigerated in an airtight container for up to a week or frozen for up to 3 months.
Energy (kJ)
936 kJ / 223 cals
Sign up to unlock your full potential
All your tools in one place
Expert-training to fuel your fitness, nutrition and mindfulness.
Limitless ways to fuel your mind & body
Access to over 3,000 workouts, recipes, and meditations – all tailored to your goals.
Tech that keeps you moving
Download Centr on all your devices to level up and track your results live.