Dan Churchill
Dan Churchill's Perfect Protein Pancakes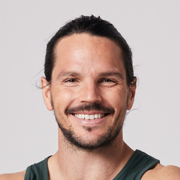 The ultimate high-protein pancakes DO exist!
3⁄4 cup (102 1⁄2g) plain flour (or gluten-free if required)
1⁄8 cup (15g) vanilla protein powder (or natural protein powder)
3⁄4 cup (188ml) milk, reduced fat (or dairy-free alternative)
1 medium banana 1 mashed & 1 sliced, separately
62 1⁄2g fresh strawberries sliced
1⁄2 tbs maple syrup (honey or rice malt syrup)
In a large mixing bowl, combine flour, protein powder, bi-carb soda, cinnamon and salt.
In a separate smaller bowl, whisk together eggs and milk.
Add wet ingredients to dry ingredients and stir gently to combine. Mix in mashed banana (not slices) and set aside.
Heat a non-stick frypan over medium-low heat and spray with a little oil. Pour in ⅓ cup of batter per pancake and cook for 3-4 minutes or until bubbles appear on the surface of the pancakes. Flip and cook the other side for 1-2 minutes.
Transfer to a plate, cover with foil and cook the remaining pancakes.
Divide pancakes between plates, top with banana slices, berries and drizzle over maple syrup to serve.
Energy (kJ)
1497 kJ / 357 cals
Whether you've given yourself a lie-in or just smashed an early workout, Centr chef Dan Churchill's Perfect Protein Pancakes recipe is easy like Sunday morning.
This recipe for high-protein pancakes is destined to be your weekend breakfast go-to, helping you keep the gains coming, even on a rest day! They're quick to make and – the best bit – simple to customize with your favorite toppings.
Now let's dig in, and find out what makes Dan's protein powder pancakes recipe so special.
Why are these the best protein pancakes?
Here's why Dan's Perfect Protein Pancakes are set to become your go-to weekend breakfast.
They taste amazing: Forget protein pancakes that sacrifice flavor for macros, or end up tasting like 99.9 percent pure protein powder. (Don't even get us started on texture!) Dan's recipe puts flavor first – with a small amount of protein powder for a nutrition boost. Meanwhile, mashed banana adds sweetness without the need for processed sugar, and delivers the perfect moist and fluffy pancake centers.
They're easy to make: Dan has kept his recipe simple, so you don't need to be a gourmet chef to make these protein pancakes. With just a little bit of mashing and mixing, you'll have an impressive breakfast on the table in 20 minutes.
They get the nutrition tick: We've done the hard work for you – all Centr recipes are macro balanced and dietitian approved, including your weekend pancakes.
The recipe is flexible: You can easily adapt this recipe to suit your dietary needs. Or, if you're feeling creative, try adding fresh or frozen fruit, or raid the pantry for toppings like nuts, seeds, nut butter, coconut or chocolate chips.
FAQ: The answers to all your questions about protein pancakes
Do protein pancakes taste like normal pancakes?
They sure do. Dan's Perfect Protein Pancakes are very similar to a standard pancake recipe, with the addition of protein powder to boost the amount of protein – this adds a hint of vanilla, or you can mix it up with your choice of protein powder flavor.
The secret to the perfect fluffiness of Dan's pancakes is the addition of mashed banana. Cinnamon also adds warmth and a spicy sweet kick.
Can I eat pancakes if I am trying to lose weight?
Yes you can! Dan's Perfect Protein Pancakes recipe is high in protein, helping you to feel full for longer and maintain muscle as you lose fat. Using banana and maple syrup in place of processed sugar means they are also naturally lower in calories than many other pancake recipes.
Remember, there's no need to sacrifice foods you enjoy when you're trying to lose fat – weight loss comes down to being in calorie deficit.
How many calories are in these pancakes?
Our Perfect Protein Pancakes contain 357 calories and provide a balanced breakfast to fuel your day. For a serving size adjusted to your individual needs and fitness goal, start your free trial at Centr
Can I pre-prepare the batter?
Yes! Mix up the batter the night before then cover the bowl in cling wrap, or pour into an airtight container, and store in the fridge. Then simply re-whisk the batter before cooking, adding a little more milk if required.
What other high-protein pancake recipes can I try?
If you love pancakes as much as we do, we've got more delicious high-protein recipes for you to try:
Sign up to unlock your full potential
All your tools in one place
Expert-training to fuel your fitness, nutrition and mindfulness.
Limitless ways to fuel your mind & body
Access to over 3,000 workouts, recipes, and meditations – all tailored to your goals.
Tech that keeps you moving
Download Centr on all your devices to level up and track your results live.