Dan Churchill
Chicken & Bean Enchiladas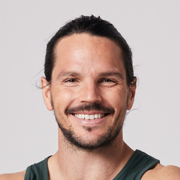 Your favorite enchiladas just got a whole lot healthier. Dan has tweaked the recipe to use lean chicken, spinach tortillas, plus beans and corn for protein and fiber. Add a side of greens for a balanced meal.
1 tin of diced tomatoes (400g tin)
1⁄2 cup (125ml) chicken stock
1 tsp Mexican spice mix (a mix of ground cumin, paprika & chilli) or to taste
1⁄2 red pepper deseeded & diced
1⁄2 tsp Mexican spice mix (a mix of ground cumin, paprika & chilli)
1⁄4 cup (30g) frozen corn kernels
1⁄4 tin of black beans (400g tin) drained & rinsed
2 spinach tortillas or wraps, small (40g ea) (or gluten free) or wholegrain tortillas
1⁄2 cup (60g) cheddar cheese grated
2 sprigs of fresh coriander leaves picked
Preheat the oven to 200°C/fan 180°C/gas 6 and spray a rectangular oven-proof dish with oil and set aside.
Combine all sauce ingredients in a medium saucepan and simmer for 10 minutes. Adjust seasoning.
Spray a non-stick frypan with oil, add onion and red pepper and cook over medium heat for 7-8 minutes or until onion has caramelised.
Add chicken and continue to cook for another 6 minutes.  
Add Mexican spice, corn and beans and cook for another 5 minutes. Adjust seasoning to taste.
Add a few spoons of sauce to the chicken mix and stir through. 
Divide chicken mixture between tortillas and roll up. 
Place a few spoons of sauce in prepared dish, spreading around to cover the bottom.
Add tortillas, seam side down and cover with remaining sauce.
Scatter over cheese, cover with oil sprayed foil and bake for 20 minutes. Remove foil, return to the oven and cook for a further 5 minutes or until cheese is golden. 
Rest for 5 minutes before dividing between plates and topping with coriander to serve.
Energy (kJ)
1930 kJ / 460 cals
Looking for the best and easy Chicken and Bean enchilada recipe? Look no further! Our delectable recipe combines tender chicken, flavorful beans, and gooey cheese, wrapped in a warm tortilla. This crowd-pleasing dish is a breeze to make and will satisfy your cravings for a hearty and cheesy Mexican meal. With simple ingredients and straightforward instructions, you can whip up these delicious Chicken and Bean enchiladas in no time. Get ready to impress your family and friends with this mouthwatering recipe that brings the flavors of Mexico to your table.
Sign up to unlock your full potential
All your tools in one place
Expert-training to fuel your fitness, nutrition and mindfulness.
Limitless ways to fuel your mind & body
Access to over 3,000 workouts, recipes, and meditations – all tailored to your goals.
Tech that keeps you moving
Download Centr on all your devices to level up and track your results live.