Angie Asche
Plant-based Pesto Pasta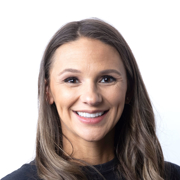 Angie's pesto puts a fresh plant-based spin on one of your favorite Centr meals. Instead of wheat, pulse pasta is made using flour from peas, lentils, chickpeas or beans – which means it's high in protein and fiber, and low in carbs. It's also ideal if you're gluten intolerant. If you can't find a pulse-based pasta, substitute wholewheat.
1 courgette (medium) Cut lengthwise & then into half moons
1⁄2 bunch of fresh basil (150g bunch) leaves picked
1 1⁄2 tbs nutritional yeast
Combine pesto ingredients in a food processor or blender. Pulse until almost smooth. Adjust seasoning.
Spray a non-stick frypan with oil and warm over high heat. Add courgette and cook, stirring occasionally, until lightly brown and tender. 
At the same time, cook pasta in a saucepan of salted boiling water according to packet directions (about 10 minutes). 
Two minutes before the pasta is ready, add frozen peas and continue to cook until pasta is just tender.
Drain pasta and peas, reserving some cooking water, and stir through courgette and pesto.  Add a little of the reserved pasta water if required and adjust seasoning to taste.
Energy (kJ)
1800 kJ / 429 cals
CYBER WEEK: ACHIEVE MORE WITH 25% OFF.
All your tools in one place
Expert-training to fuel your fitness, nutrition and mindfulness.
Limitless ways to fuel your mind & body
Access to over 3,000 workouts, recipes, and meditations – all tailored to your goals.
Tech that keeps you moving
Download Centr on all your devices to level up and track your results live.