Sergio Perera
Green Super Smoothie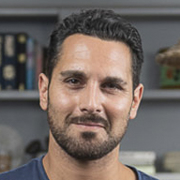 This is a Super Smoothie, specifically created for men and women on the Build Muscle goal. Our post-workout Super Smoothies make it easier to meet your daily energy quota in order to support training and muscle gain needs. To view all our Super Smoothies, you must have your goal in settings changed to Build Muscle. To swap to a different flavor smoothie for your post-workout meal, search 'super smoothie' in Meals.
2 cups (500ml) coconut water
2⁄3 cup (80g) natural protein powder or vanilla protein powder
2 Granny Smith apples (medium) cored & roughly chopped
1 1⁄2 cups (60g) baby spinach leaves
Blend all ingredients until smooth. Enjoy!
Energy (kJ)
1751 kJ / 418 cals
Sign up to unlock your full potential
All your tools in one place
Expert-training to fuel your fitness, nutrition and mindfulness.
Limitless ways to fuel your mind & body
Access to over 3,000 workouts, recipes, and meditations – all tailored to your goals.
Tech that keeps you moving
Download Centr on all your devices to level up and track your results live.