Sergio Perera
Baked Meatballs with Ciabatta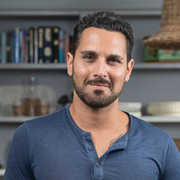 Italian-inspired Baked Meatballs by Sergio are the dinner equivalent of a big hug: warm, hearty and happy! Crusty ciabatta bread is the perfect tool for wiping every last trace of sauce from your plate.
1 1⁄2 garlic cloves crushed
1 1⁄2 sprigs of fresh thyme leaves picked
1 tin of diced tomatoes (400g tin)
1⁄2 cup (125ml) vegetable stock
1⁄2 sprig of fresh basil roughly chopped
1⁄8 cup (20g) mozzarella grated
1⁄2 sprig of fresh basil leaves picked
2 thin (40g) slices ciabatta (or gluten free) grilled
To make the meatballs, fry onion and garlic in oil in an ovenproof frypan over medium heat. Remove and add to a mixing bowl with minced meat. Add the thyme, season and mix well. Form golf-sized balls and then brown in same frypan, remove and set aside.
To make the tomato sauce, add oil to same frypan over medium-high heat, fry garlic until soft, then add tomatoes, stock, basil and season well. Simmer uncovered for 15-20 minutes or until sauce has reduced by a quarter.
Preheat oven to 200°C/fan 180°C/gas 6. Add meatballs to pan with sauce, bake for 10 minutes, then remove pan and top with cheese. Return to oven to allow cheese to melt. Remove from oven, scatter fresh basil and serve with grilled slices of ciabatta.
Energy (kJ)
1670 kJ / 399 cals
Sign up to unlock your full potential
All your tools in one place
Expert-training to fuel your fitness, nutrition and mindfulness.
Limitless ways to fuel your mind & body
Access to over 3,000 workouts, recipes, and meditations – all tailored to your goals.
Tech that keeps you moving
Download Centr on all your devices to level up and track your results live.