Darren Robertson
Herb Stalk Chicken with Corn & Citrus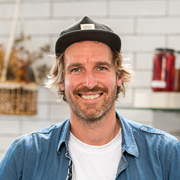 Darren's tips to make this a zero-waste dinner: save the corn cob leaves to wrap and bake fish. Or you can char the leaves then blitz into a powder – the chocolatey-coffee notes work beautifully in desserts!
333 1⁄3g whole chickens cut in 12 pieces
1⁄2 bunch of fresh coriander (80g bunch)
1⁄8 bunch of fresh mint (80g bunch)
1 tsp fresh ginger peeled
1⁄3 long red chilli destalked
2⁄3 spring onion roughly chopped
1⁄4 cup (63 1⁄3g) Greek yogurt (or dairy-free alternative)
2⁄3 corn cob, (medium,160g) kernels cut and set aside
1⁄8 red onion thinly sliced
1⁄3 long red chilli sliced
Pick leaves from some of the coriander and all of the mint and set aside to serve. Blend the leftover stalks, stems and leaves of remaining coriander with remaining marinade ingredients to a smooth paste.
Marinate chicken pieces in the fridge for at least 20 minutes (or overnight for the chicken to fully absorb all the flavours). Remove from fridge and allow chicken to come to room temperature for about 10 minutes.
While chicken is coming to room temperature, preheat the oven to 190°C/fan 170°C/gas 5 and line a baking tray with baking paper.
Transfer chicken to baking tray and roast for 25-30 minutes or until cooked through and golden.
Toss hot chicken with corn, onion, oil and lime juice. Season, top with mint and coriander leaves and scatter over chilli to serve.
Energy (kJ)
1887 kJ / 451 cals
Sign up to unlock your full potential
All your tools in one place
Expert-training to fuel your fitness, nutrition and mindfulness.
Limitless ways to fuel your mind & body
Access to over 3,000 workouts, recipes, and meditations – all tailored to your goals.
Tech that keeps you moving
Download Centr on all your devices to level up and track your results live.