Palisa Anderson
Blue Butterfly Pea Tisane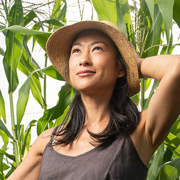 Treat yourself after a long week with Palisa's sugar syrup drink mixer, infused with the stunning Asian blue butterfly pea flower. Available fresh or dried from health food stores, the flowers are known for their antioxidant and anti-ageing properties.
1⁄8 cup (20g) caster sugar
1⁄8 cup blue butterfly pea flowers, dried or 4 cups of fresh flowers
Serving suggestion for two drinks
Make a simple syrup by boiling sugar, salt, pandan and water until sticky and reduced to half its original volume.
Once it has cooled but still warm to the touch, roughly 50°C, add the blue butterfly pea flowers to infuse and let steep for 30 minutes.
Strain the syrup into a bottle and store refrigerated for up to 6 months.
To serve, add 2 tsp syrup to a glass with ice cubes, lemon and lime slices and top with sparkling water, seltzer or soda water. Finish with a lemongrass swizzle stick. (Add alcohol if desired.)
Energy (kJ)
161 kJ / 38 cals
Sign up to unlock your full potential
All your tools in one place
Expert-training to fuel your fitness, nutrition and mindfulness.
Limitless ways to fuel your mind & body
Access to over 3,000 workouts, recipes, and meditations – all tailored to your goals.
Tech that keeps you moving
Download Centr on all your devices to level up and track your results live.