Sergio Perera
Creamy Kale Risotto with Prawns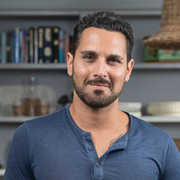 3 cups (750ml) vegetable stock
1 1⁄2 garlic cloves minced
1⁄3 cup (75g) arborio rice
1⁄8 cup (40ml) white wine
1⁄2 bunch of kale (400g bunch) leaves stripped and chopped
1⁄4 cup (30g) parmesan finely grated
Heat stock in a saucepan over medium-low heat and keep hot throughout cooking.
In a large saucepan, heat half the oil over medium heat. Once hot, add prawns and sear for 1 minute each side. This will extract the beautiful prawn flavor into the pan for the rice. Remove prawns and set aside.
Add remaining oil, onions and garlic and sauté for 3-4 minutes or until onions are translucent and softened.
Add rice and stir for 2 minutes. Add wine, stir well and continue to cook down until most of the wine has evaporated.
Add one ladle of hot vegetable stock, stir well and cook down until most of the stock has evaporated. Be sure to stir the rice mixture well and often throughout the cooking process. This is very important and the key to getting a creamy risotto. Continue adding one ladle of stock at a time as soon as the previous one has evaporated.
Once the last ladle of stock is added, add kale to the rice mixture and continue to cook till stock has almost evaporated, around 20-25 minutes in total. Test a grain of rice: it should be plump and al dente – a little firm to the bite. 
Stir through prawns, add a bit more of the stock, cover and cook for 2 mins to finish cooking prawns. Add a little more stock and once all the liquid has evaporated and the rice is slightly runny and creamy, add Parmesan, chilli flakes, salt and pepper. Serve with a squeeze of lemon and enjoy.
Energy (kJ)
1952 kJ / 466 cals
Sign up to unlock your full potential
All your tools in one place
Expert-training to fuel your fitness, nutrition and mindfulness.
Limitless ways to fuel your mind & body
Access to over 3,000 workouts, recipes, and meditations – all tailored to your goals.
Tech that keeps you moving
Download Centr on all your devices to level up and track your results live.