MUST READ
•
Ingrid Clay
Meet Ingrid: Your new HIIT HIRT trainer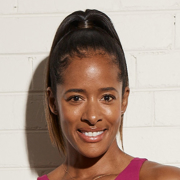 You bring the dumbbells and HIIT HIRT Strength trainer Ingrid Clay will bring the expertise to shape your strongest body yet.
As she puts it: "I'm not just a trainer. I'm a sculptor."
You can find Ingrid in the bonus session with your new trainer trio, with more of her workouts landing on Centr in the coming months and early next year.
Until then, let's get to know what shaped Ingrid with 10 questions for your new trainer.
Pull up a mat and let's chat.
Ingrid, you literally wrote the book on HIIT.
I did!
Why are you such a fan?
HIIT workouts are exceptionally great because every time you push your body from rest to explosive movements, you are setting your body up to burn fat throughout the day. With a good balance of HIIT and resistance training, like you'll get in my Centr workouts, you can achieve optimal results – strengthening your body, toning, sculpting and burning fat.
But here's another thing you can't forget when it comes to getting results: don't neglect your diet. You can't outrun a bad diet!
Speaking of diet, you're a plant-based chef. When did you decide to go vegan?
I started eating a plant-based diet after years of competing in bodybuilding. During my prep time, I would eat six meals a day, usually with chicken, and while I looked great I always felt a bit heavy and sluggish. After each show I would go vegan for 2-3 months and I always felt better and lifted heavier weights.
So after attending a plant-based culinary school and taking plant-based sports nutrition classes, I started making the change. I started slowly, subbing in plant-based meals each week.
Do you have a slogan that gets you pumped up for a high-intensity workout?
I have two! 'You'll love yourself afterwards' and 'This is your moment'.
Most of my day I am teaching classes or training clients, so working out is sometimes the only time I have to myself. These two phrases help me remember that this is my chance to prioritize myself and my goals.
Let's say you need an extra edge. Which song is your go-to?
Dreams and Nightmares by Meek Mill. What a build up!
If you could go back in time, what would you tell your 18-year-old self?
Eat healthier, pay a little bit extra for the good stuff and enjoy your moments! Don't be in such a rush to get to the end. Enjoy the journey.
Does a workout count as self-care?
Absolutely! Some days, working out is my meditation. It's truly the best gift you can give yourself. But I find actual meditating also helps, as well as putting the phone down and unplugging. It's so important to take those moments for yourself.
We're partway through a workout with you and feel ready to give up. What do you say to us?
Everyone requires a different type of motivation. I would say, 'What is the reason you came here today? Hard things are inevitable, so how will you face it? Will you stop, go around it or push through it?'
I will also remind you that you aren't doing this alone. 'I'm right here. You've got this!'
Shhh… secret Centr planning in progress.
Tell us about a time you faced a setback. What did it teach you?
While training for a bodybuilding show I reinjured the hamstring that I had originally pulled back in high school. The most important thing was that I allowed my body to heal properly. I wasn't able to go as hard as before, but with the help of a physical therapist I was able to hit the gym again after 4 months.
There is a difference between pain and pushing yourself, so you should always listen to your body. If you feel pain, that's your body saying something isn't right. After every workout, you should be recovering just as hard: a stretching session, mobility exercises, massage or foam rolling, ice baths, heat, rest!
Celebrity body inspo – good or bad for us?
Oh boy! When clients come in showing me a picture of a photoshopped celebrity, I always ask, 'What about YOUR body? Give yourself a chance to see what YOU can look like when you give yourself the best'.
You may surprise yourself and see that what was underneath is so much better than anything you could have imagined.
If we have a specific body part goal – like a rounder butt – can you help us achieve it?
As a former bodybuilder I know it's possible to sculpt the body. But bodybuilding also teaches you that everything works in unison to create balance.
In order to have a rounder butt, for example, you can't just do glute-focused exercises – you have to sculpt the entire leg. Working the quads to deepen what bodybuilders call the 'sweep' is akin to contouring, it adds depth and brings out the glutes more. Working the hamstrings also creates the depth and gives a lift to the glutes. You get the idea!
It's what I do best – sculpting and shaping. I can't wait to teach YOU how to shape and sculpt to achieve the goals you want. I'm here to help you be a healthier, stronger YOU.
Ingrid Clay
HIIT HIRT • STRENGTH
Ingrid Clay will get you lifting strong and burning it up with bodyweight in HIIT HIRT Strength workouts. Ingrid is a NASM Certified Personal Trainer and plant-based chef who draws on her physics and engineering background to sculpt bodies through exercise and nutrition. She's also an NPC National qualifier bodybuilder and author of The Science of HIIT.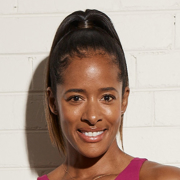 Sign up to unlock your full potential
All your tools in one place
Expert-training to fuel your fitness, nutrition and mindfulness.
Limitless ways to fuel your mind & body
Access to over 3,000 workouts, recipes, and meditations – all tailored to your goals.
Tech that keeps you moving
Download Centr on all your devices to level up and track your results live.