Darren Robertson
4 zero-waste kitchen hacks from Darren Robertson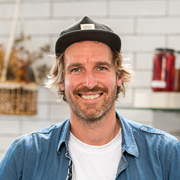 Aspiring to a 'zero waste' lifestyle can feel difficult and overwhelming. Health food stores and organic shops are full of plastic packaging, your workplace might not have a recycling program and maybe your compost heap has turned into more of a compost mountain since the worms went on strike.
At Centr, we're big fans of taking small steps in the right direction and your kitchen is the perfect place to start. Just ask chef Darren Robertson, whose "root to stalk" philosophy is all about cutting back on waste products while creating delicious recipes.
"I actually quite like the challenge of coming up with new ideas to minimize waste and time," he says. "It's certainly playing a lot more of an important part of how we eat and how we cook and how we design our menus."
Check out Darren's Herb Stalk Chicken with Corn and Citrus for some chef secrets on minimizing food waste in unexpected ways. Not only can you keep the corn husks from this recipe for baking fish later, but if you char and blitz them into a powder instead, they add a wonderful depth of flavor for desserts.
Zero waste, full flavour - the ultimate feel-good meal.
In 2019, food waste is a huge problem. In the United States alone, the FDA estimates that the total amount of uneaten food that Americans are throwing out is as much as 20 pounds of food per person per month. That's the equivalent of $165 billion in food each year!
So if you've had enough of tipping soggy vegetables into the trash, here are some tips to help cut back on kitchen waste. Your wallet and your planet will thank you.
1. Start small, think big
Jumping in the deep end of zero waste is a big ask – particularly if you've got a young family or are pressed for time. That's why first aiming for low waste is the best route to effective changes. Many dry goods stores will let you bring your own containers, which is also a great way to recycle. When you get to the bottom of the peanut butter, rinse out the jar and hey presto, an airtight container for rice or nuts. You can also cut down on fresh produce packaging by growing your own food.
2. Carrots, three ways
There are lots of fruit and veggies that can do double or triple duty in the kitchen – that's what Darren's 'root to stalk' vibe is all about. For example, if you're steaming or roasting broccoli florets for a salad, keep the stems for a quick steam and then pop them in the food processor. They make great low-carb 'rice.' Likewise, lots of fruit and vegetables have fiber and nutrients in the skin, so why not try a 'skin-on' mashed potato? Another great one: a whole apple baked with spices and a bit of maple syrup. Even banana peels are edible – if you're game! – and are useful sources of B6 and B12 vitamins. You can blend them straight into creamy smoothies or chop and fry them into a spicy vegetable and coconut curry.
3. Rethink plastic bags
If you keep all your produce in plastic, you might be familiar with wasted veggies. Sweaty spinach leaves, slimy cucumbers: plastic bags can be a one-way ticket to the compost heap. Instead, experiment with recycled options that can increase the shelf life of your produce. Old pillowcases make great, breathable fruit and vegetable bags.
4. Low waste = low stress
Using fewer ingredients and creating less waste is good for the environment, but can also make cooking a breeze. If you've been burned by tricky recipe books with a million steps, take heart. Darren and the Centr recipes have got your back.
"I love cooking at home, but gone are the days where I'm doing two to three different sauces and 20 pans," he says. "It's just not happening now!"
Darren Robertson
RECIPES
Farm-to-table proponent Darren Robertson is one of the most recognisable chefs in a country obsessed with food. An expat Brit trained in Michelin-starred restaurants, he'll help you make cafe-worthy meals at home. Darren is co-owner of stalwart Byron Bay restaurant Three Blue Ducks, Rocker in Bondi, and crossed Australia to discover new tastes in the Three Blue Ducks TV series.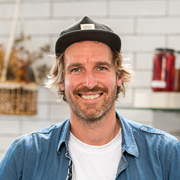 Sign up to unlock your full potential
All your tools in one place
Expert-training to fuel your fitness, nutrition and mindfulness.
Limitless ways to fuel your mind & body
Access to over 3,000 workouts, recipes, and meditations – all tailored to your goals.
Tech that keeps you moving
Download Centr on all your devices to level up and track your results live.