Tiff Hall & Jorge Blanco
Unlock your body's toning potential with Power Sculpt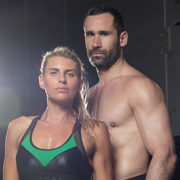 If we told you it would only take an extra 15-25 minute workout every week for nine weeks to get the lean, toned body you've always wanted, you'd be first in line, right? Well, line up, folks, because we're bringing your fitness goals to life with Power Sculpt – a limited edition workout series from Chris Hemsworth's Centr experts.
Power Sculpt is a series that adds a powerful kick to your fitness journey. Centr's resident MMA experts Jorge 'The Spaniard' Blanco and Tiffiny Hall have joined forces to create a weekly targeted workout that draws from multiple martial arts disciplines to help you tone your body with lightning speed.
Power Sculpt is ideal for anyone on with their goal set to 'Lose weight' or 'Get fit & toned', from beginner to advanced, who wants to take the next step by sculpting their body with lean muscle definition.
How does it work?
Power Sculpt workouts with Tiff and Jorge are a mix of interval and resistance training with a martial arts twist.
You'll get one Power Sculpt workout a week. It's a 15-25 minute full-body session that can be done anywhere, any time with minimal equipment – just dumbbells and a resistance band.
"It's martial arts-inspired, so you'll feel really empowered and confident doing it," Tiff says. "You'll be toning up, burning calories with dynamic movements, having fun and learning new skills – all at the same time!"
You don't need to follow a separate meal plan, just stick with the meals in your daily planner.
What are the benefits?
Power Sculpt is designed to accelerate body toning so you get results, fast. It will:
Sculpt and define arms, legs, butt, back and abs with effective resistance movements.

Promote afterburn, or EPOC (excess post-exercise oxygen consumption), which means you'll still be burning calories post-workout.

Challenge your mind and reflexes with boxing and MMA fighting combos.

Get you boxing and striking like a pro with technique training from world-class martial arts coaches.
Ready to get started?
Power Sculpt is a 9-week series of workouts on Centr. If your goal is set to 'Lose weight' and 'Get fit & toned' on any level, you will get a Power Sculpt workout every week in your planner, replacing one of your normal workouts. If your goal is set to 'Build muscle', Power Sculpt workouts can be found in the Coached Workouts section in Explore.
To look great, feel powerful and take your body to the next level, hit the accelerator with Power Sculpt.
Sign up to unlock your full potential
All your tools in one place
Expert-training to fuel your fitness, nutrition and mindfulness.
Limitless ways to fuel your mind & body
Access to over 3,000 workouts, recipes, and meditations – all tailored to your goals.
Tech that keeps you moving
Download Centr on all your devices to level up and track your results live.