Tiff Hall & Jorge Blanco
Get toned with a free power sculpt workout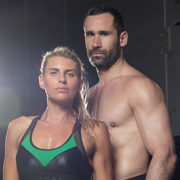 If well-defined arms, sculpted abs and toned legs are your goal, Chris Hemsworth's fitness program Centr has a brand new way to get you there, fast.
Starting July 15, Power Sculpt is a limited edition workout from MMA experts Tiffiny Hall and Jorge 'The Spaniard' Blanco. Power Sculpt combines the most effective parts of boxing, MMA and interval training to sculpt and define muscles and tone your body.
Workouts can be done in the gym or at home, equipment-free or with dumbbells and band to add resistance and level-up your results. Your trainers will offer low-impact modifications so you can take it at your own pace and build as you go.
Centr women on the 'Lose weight' and 'Get fit & toned' streams – across beginner, intermediate and advanced – will get a Power Sculpt workout once a week on Mondays in their planner. Women on 'Build Muscle' and men on the 'Lose weight' stream will get it every Tuesday.
No matter where you're at in your fitness journey, it's never too soon to start toning. Learn more about the benefits of Power Sculpt.
To give it a go right now, simply hit play on the video and let Tiff and Jorge take you through a free five-minute Power Sculpt workout. Let's get toned!
Try this Power Sculpt mini-workout
Time: 5 mins
Equipment: Dumbbells, Resistance Band
Bounce it out as you move between sets, staying loose through the hips. Like Tiff, you can use dumbbells and a band to add resistance, but it's not essential. Take the workout at your own pace and focus on your form before stepping it up. Enjoy!
Jabs - 5 jabs, switch, 5 jabs on the other side, switch again and pick up the pace.

Mountain climbers - take it slow and steady until you're ready to level-up.

High punches - punch long into the air to sculpt those shoulders.

Uppercuts - really put your body into it by rotating your hips.

Hip raises - this will sculpt your booty. Intensify the workout by adding a band and/or dumbbell.

Hip raise hold + leg pulse - hold your hip raise for a 20-count or flip to do a variation and do 10 leg pulses on each side with the band.v

Dumbbell rotations - this will sculpt your stomach and bring that waist in.

Shadow boxing - increase speed as you get comfortable with the combos.
Get the full Power Sculpt experience
The limited edition Power Sculpt workout series starts July 15 on Centr for nine weeks only.
Not a member yet? Don't miss out on sculpting the body you've always wanted. Start your 7-day free trial at Centr.com today.
Sign up to unlock your full potential
All your tools in one place
Expert-training to fuel your fitness, nutrition and mindfulness.
Limitless ways to fuel your mind & body
Access to over 3,000 workouts, recipes, and meditations – all tailored to your goals.
Tech that keeps you moving
Download Centr on all your devices to level up and track your results live.